Franchise development marketing involves growing a company's sales and business through several activities, such as digital advertising or online marketing. Its purpose is to help companies increase their profits while retaining customers and reaching new audiences.
The importance of franchise marketing cannot be understated. All types of franchise marketing operations are essential to the success of every business, no matter its location. Each franchisor needs to instill the importance of localized marketing and advertising strategies to their franchisees to increase the success of all businesses and drive people to the company's products or services.
When choosing the right marketing strategy for franchise businesses, learning from the successes of others is crucial. Many companies increase customer engagement through a personalized experience. Personalized marketing and engagement may include sending a welcoming subscription email, responding to positive online reviews or creating localized search engine optimization (SEO) strategies. The more time and effort franchisors devote to building strategies to strengthen relationships between franchisees and local customers, the more likely they are to be profitable and successful.
Here are our top tips for franchise marketing:
1. Establish Your Branding and Maintain Brand Consistency
Franchise units must learn to succeed independently, despite being associated with you, their parent brand. Maintaining brand consistency through the same colors, logos and materials helps establish credibility and trust in your business. Even while maintaining brand consistency, franchisors can work with local businesses to set different marketing tactics, tones and brand images for their specific customer base.
How to Create Brand Consistency
Create a style guide for your brand. Using this style guide across locations ensures that franchisees stick to the rules for marketing and sales operations. Here are a few things you can include in the style guide:
Logos: Your guide should include appropriate sizes or color options for using your logo.
Fonts: You'll also want to include company font styles in bold, italics and regular formats.
Grammar: When it comes to writing, lay out your style rules and regulations for language mechanics, punctuation, abbreviations or capitalization.
Image sizes and styles: Your guide should also include image suggestions for both print and digital materials.
Boilerplate: This section is your company's mission statement and "about us" section.
Social media practices: Be sure to include regulations for social media tone, voice and written content by platform.
2. Target Local Audiences
One of the best strategies for growing your franchise is targeting local audiences. Customers' interests and needs often vary depending on location, and over-generalizing could quickly lower your business's sales. Many regions have specific tastes in food, clothing or services. You may benefit from offering different products or services in different locations. Identify which products and services customers in specific areas are more likely to purchase, and customize marketing strategies. To identify target audiences, examine each location where your franchisees have set up a business and analyze customer preferences.
3. Collect and Manage Franchisee Data
Data management is the process of collecting, organizing and using different data sets to help you better understand your franchisees. By researching and analyzing franchisee information, such as locations, revenue and number of franchise units owned by the same entity, you can increase conversion rates in specific areas and encourage more franchisees to sign up with your business. Perhaps you'll discover new, unique information that can set your franchise apart from other competitors, such as how visitors to your website browse through products or locations where you think a franchise unit would succeed.
4. Stay Connected Throughout the Customer Journey
Another excellent franchise marketing strategy is connecting to your customers at every step. Many customers want a personalized user experience throughout their purchasing journey. Try to stay connected to your customers no matter where they are on the purchasing journey. This means strengthening your communication efforts through multiple channels and devices, from social media or online communication to emails and text messages. Building a solid relationship with your customers ensures they understand your care about their experience.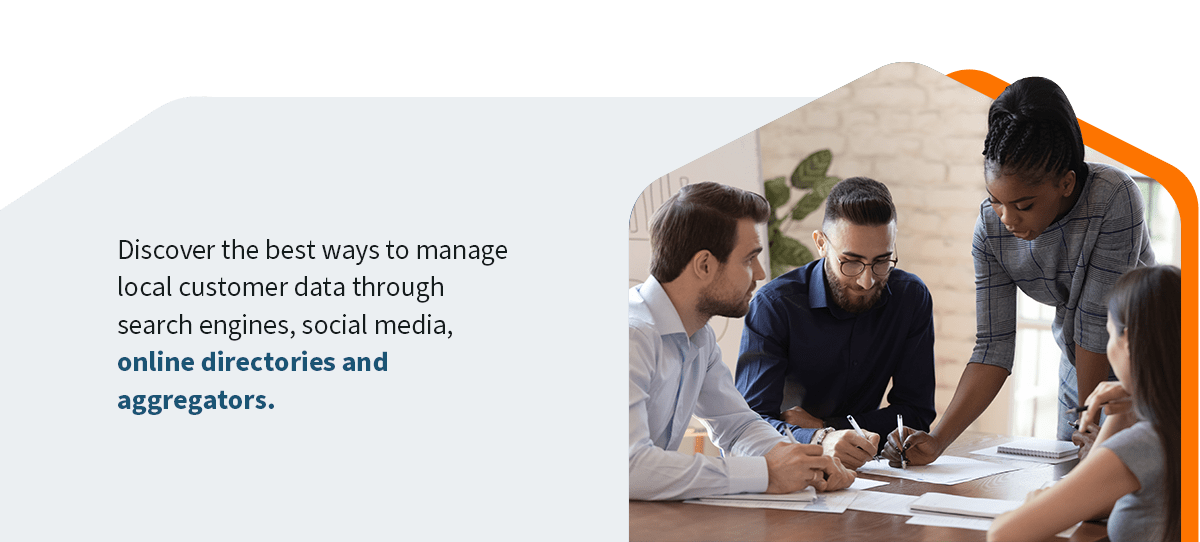 5. Local Marketing
For many franchise brands, local marketing is one of the best ways to increase revenue and grow their business. Discover the best ways to manage local customer data through search engines, social media, online directories and aggregators. Franchisors should create strategies every franchisee can adjust for their location. Here are a few ways franchisees can keep up with local marketing:
Displays: Create displays based on local customers' wants and needs.
Video ads: Create localized video ads for customers in their area.
Geo-fencing: Use geo-fencing to locate relevant places and customers to keep up with competitors' locations and promote repeat sales.
6. Stand out From Your Competition
When it comes to content marketing, your franchise must stand out from the competition. Many franchisors compete with similar businesses that offer food, products and services that compare to their own. To stand out from the competition, teach your franchisees to use tools like geo-targeting to ensure marketing efforts don't overlap with other franchisee locations. This provides fair advertising for each store.
7. Make Sure Your
Franchisees

Promote a Positive Brand Image

Ensuring a consistent brand image across franchise units is another excellent strategy for growing your business. Creating consistency saves franchisees from spending time and money coming up with new advertising materials or brand logos and colors. Customers also benefit from consistent branding across franchise units, as similar information and logos help companies retain customers and encourage brand recognition.

Start by enforcing consistent messaging and advertisements across all locations to ensure your franchisees promote a positive brand image. While franchisees may advertise different products depending on their location, the colors, images and logos will be the same. Encourage positive brand images through good storytelling in advertising, emails or social media platforms.
8. Encourage Customer Reviews and Respond to Them
As a franchisor, have your franchisees monitor online reviews and encourage customers to respond to products and services. Check out Facebook, Yelp or Google for positive and negative reviews and reply accordingly. By showing that your company can engage with customer reviews, your franchisees are more likely to succeed.

9. Track the Impact of Your Marketing Efforts
To track your marketing efforts, keep a log of how much you spend on advertising or your social media connections. You can also track inquiries, specialized outcomes or customer purchases. Some franchisors may also record subjective areas related to local businesses.
10. Choose the Right Marketing Tools and CRM for Your Business
A reliable customer relationship management (CRM) system allows franchises to manage their company's connections, strengthen existing client relationships and search for potential customers. Improving your business's relationship with franchisees and their local communities can help you grow and enhance your sales and marketing initiatives. A CRM system organizes your customer information from across the country and enables you to manage and view customer data throughout their purchasing decisions.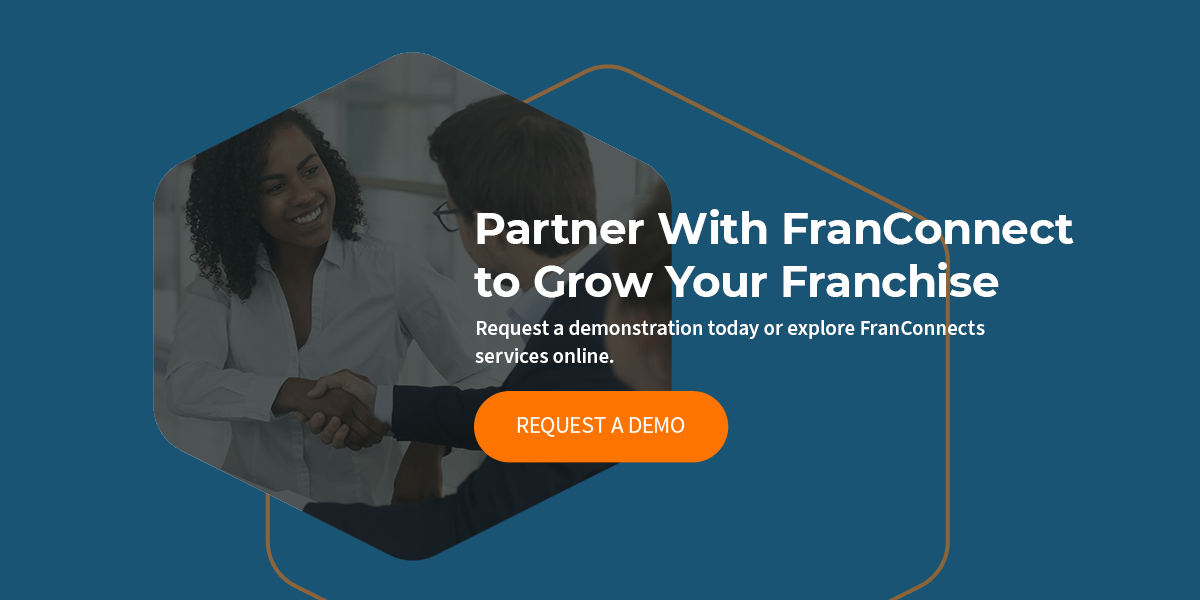 When your franchise partners with FranConnect, you can use our franchise management software to integrate a customer relationship management (CRM) system and other tools to help your franchisees develop successful businesses. Our company can assist you with all aspects of franchise success, from accelerating location sales to providing tips for email marketing platforms or managing royalties. Request a demonstration today or explore FranConnects services online.