Owning a franchise is an exciting opportunity to apply your business acumen and take your career in a new direction. While many franchises come with built-in brand recognition and buying power, you will still need to grow your business and attract new potential franchisees. Defining your unique selling points is the best way to accomplish these goals.
In this article, we'll look at how to find your unique selling point and share ideas for communicating your unique selling point ideas to franchisees.
What Is a Unique Selling Point?
A USP makes your products or services stand out from your competitors and shows your potential franchisees the value you offer. With so many options on the market, your USP is the perfect way to build a powerful brand and differentiate yourself from the competition. Your USP is a crucial component of your brand's personality. It should showcase what is relevant and compelling about your franchise.
Your USP helps build loyalty and plays a vital internal role. It will attract motivated franchisees and help them maintain the company culture.
Defining Your Franchise's Unique Selling Points
The first step to creating a franchise unique selling proposition is considering what sets you apart. To attract your ideal audience, it's essential to be specific.
Define your audience: Understand your target audience's needs and preferences. What are their backgrounds, experience and long-term goals? What do they want to achieve with their investment? Would they consider this a side hustle or an essential source of income for their family? The more you understand why people want to invest in your franchise, the easier it will be to tailor your marketing.

Highlight your benefits: These advantages must be unique to your franchise. Highlight your brand, training and support, business model and other essential features without repeating what other franchisors would say.
Tailor your language: The language you use must resonate with franchisees. Avoid using potentially confusing jargon. Instead, aim to inspire and motivate people to invest in your franchise. When they read your USPs, potential franchisees should immediately comprehend what sets your business apart.
Differentiate from your competitors: Your unique selling point must spotlight features your competitors don't offer. Explain what makes your franchise system a superior investment. You can also include testimonials from current franchisees and customers who are devotees of your brand.
Unique Selling Point Examples for Franchises

People who want to invest in a franchise have a wealth of options — there were over 790,500 franchises in the U.S. in 2022. Here are a few franchise USPs to help you stand out amid this stiff competition.
Low royalty fees: Price is a vital USP. How much franchisees pay in royalty fees and other costs, such as the initial investment and advertising, will determine how much upfront cash they need. Emphasizing low royalty fees will encourage franchisees to invest with you.
Well-established brand: Having a solid brand identity is essential to establish trust. Even if you are not the dominant brand in your industry, you can still highlight what you do best.
Data-driven statistics: Show franchisees that buying into an existing brand can help them grow faster than opening a business. When people invest in a franchise, they immediately have everything they need, instead of starting a business from scratch.
Marketing costs: Be transparent about how much you pay for marketing and what promotional items you provide. Ensure you have dependable marketing programs to help franchisees achieve the results they are looking for.
Training and support: Working with a franchisee is an ongoing relationship. Franchisees will need frequent guidance and assistance. You can equip them with the tools they need to succeed by educating them on the market, competitors and industry performance.
Low-risk contracts: Offering a low-risk contract is a big draw, especially for first-time investors.
Franchisee retention and satisfaction stats: Highlight your current franchisees' earnings and ROI. When people see your current franchisees are doing well, it will encourage them to invest.
Franchise development strategy: Franchisees want to be confident about investing in a growing franchise. Show that market opportunities are available for expansion, and create a development strategy based on these.
Sustainability: Sustainable franchisees have longevity. Reassure franchisees that the brand will evolve to meet consumer demands.
Ways to Communicate Your USPs to Potential Franchisees
Once you have defined your USPs, you can promote them to potential franchisees. Your communication should be specific and concise, so there's no confusion and people have positive expectations from the outset. Consider using marketing and communications tools like these.
Social Media
Social media platforms such as Facebook, Instagram and LinkedIn are valuable ways franchise owners can drive awareness, spread the word about their USPs and connect with potential franchisees.
As a professional networking channel, LinkedIn is a compelling medium for franchise advertising. Many LinkedIn users rely on this platform to close sales and find business growth opportunities. Once you create a LinkedIn page for your franchise, start creating and posting engaging content. For example, consider writing a blog post or designing a micrographic that showcases your USPs. Your LinkedIn page is also the perfect place to share franchisee testimonials that give your brand credibility and build trust.
PPC Advertising
You can use pay-per-click advertising to highlight your USPs. The unique selling point should appear in your ad's headline or the first line. If you feature it in your headline, ensure it is keyword-rich. You can include it anywhere else in your ad copy, but always emphasize the USP before other features. Focus on one USP per PPC ad. Including too many details will confuse viewers, dilute your ad's strength and result in lower conversions.
Landing Pages
Create USP landing pages on your website demonstrating what differentiates your brand. On these pages, you can provide more details for potential franchisees. Direct your PPC and social media ads to specific landing pages to reinforce the unique selling points in your ads and allow readers to learn more. Remember to include an unmistakable call to action. Once potential franchisees understand your USPs and feel motivated to continue, they need an immediate pathway to take the next step.
Emails
Do you have leads who have reached out by email but have yet to close? Send an email with a USP in the subject line, enticing the reader to open your email. Using imagery will capture the reader's attention, but the image must relate to and convey the USP you are talking about.
Streamline Your Franchise With FranConnect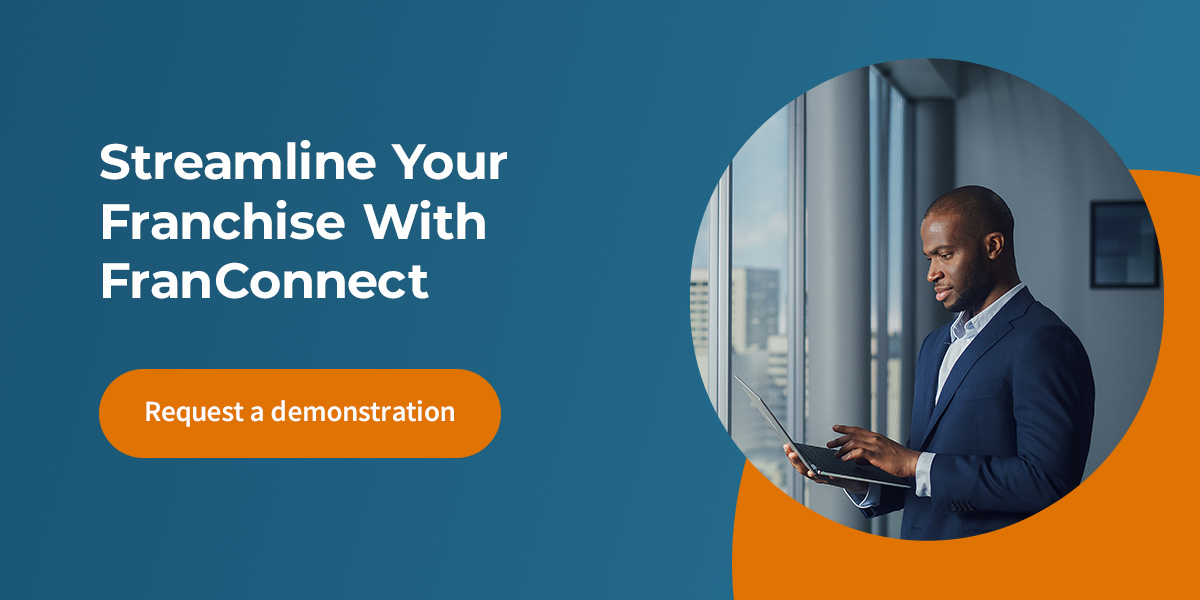 Defining and showcasing your franchise's unique selling proposition helps you attract long-term franchisees and promote your brand. We provide high-quality solutions that allow franchisors to grow, scale and optimize their businesses. Our software aligns every part of your business, from sales and marketing to procurement. It empowers you to overcome your challenges and take advantage of opportunities. You can also engage with your franchisees, ensuring consistent and clear communication.