Franchise coaches bridge a lot of gaps, including:
Franchisor and franchisee
Franchisee and key departments, such as marketing
Crew members and training resources
The word synergy has fallen out of fashion in recent years, but the spirit of it — that the sum of parts is greater than the whole — is still going strong in the franchising community. Franchise coaches can explore some of the ideas below to see how they can be more collaborative and effective in their role.
Look Below the Iceberg
As you look at a various problems, be sure to look below the surface into their root causes. Sometimes, the problem is shallow, and a simple fix works well. But, other times, the problem is part of a something bigger – it is just the tip of the iceberg.

For example, a franchisee may still have their Holiday season promotion up in February – and who wants to see Santa when you are still paying the bills and losing the weight after an indulgent holiday season? The simple solution is to get them to take it down and update it with the healthy winter promotion. But what happens if it hits summer, and you as the coach see the February promotion sitting there?


In this case, the wrong seasonal LTO is the just top of the iceberg. Below the iceberg could be the following:
Maybe there needs to be training on obtaining and updating the promotion.
Perhaps the franchisee does not see the LTO as important – so it is a lack of priorities around it.
It could be that there is a weak relationship with the coach and they can say "yes" in the moment, but he or she does not respect the coach enough to actually follow through.
Finally, there could be a culture of "don't care" going on in the case of a combative relationship between franchisor and franchisee.
There are many other things that could be under the iceberg. It is up to a smart coach and team to figure those out using both experience and intuition.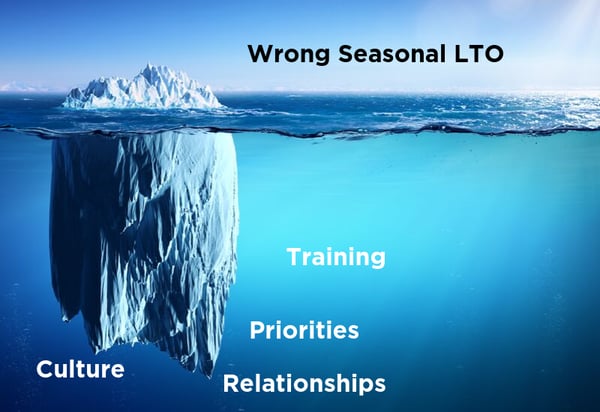 Focus on the Shift
Everything comes down to the shift – that is the simplest way to create more connections. Although many are "allergic" to math, connecting the math to the product can create a surprising level of motivation.
Numbers
Imagine you have a revenue goal of $5,000. Your crew can see that number, and maybe even remember it, but it may not translate into results until you give it meaning. To break it down, you can do the following:
Imagine you are a donut shop with a breakfast and lunch shift. In a month with 30 days, you can break that revenue goal down into $83/shift ($5,000/60=$83.)
Say your donut shop has a price for $11.95 for a dozen, $6.75/half-dozen and $2.35 for a large coffee. You could break it down to aiming to get three customers to buy a dozen more donuts, three to buy 1/2 dozen and 12 to buy large coffees.
Now, wheels can start turning. Someone who has a gift for connecting with customers can recommend the delicious new cinnamon donuts for a customer who is getting snacks for a meeting – and boom! one of the dozens is complete. A crew member who is popular in the community invites a group of hockey moms to the shop for a coffee-chat – boom! the 12-coffee goal is complete. The guy delivering an Amazon order dwells near the donuts and is noticed by the associate at the counter – another 1/2 dozen sold!

Accomplishing goals is better with everyone on board in a real way, and you can enjoy the victory together by offering recognition or even simple incentives.
Day Of
According to Jim Sullivan in Multi Unit Leadership, many never consider the architecture of the revenue-generating shift and how managers need to vary their approach and style to effectively get the most out of each. It's time our managers stop "running" shifts… and begin leading them.

Here, Sullivan talks about leadership and shift management:
Ask Purposeful Questions
Imagine you have a coach and a franchisee interacting. The coach imparted his knowledge at length, and came out of the conversation feeling like he had made a strong, meaningful change in the franchisee's life.

The franchisee, on the other hand, came out of the conversation feeling like the coach talked a lot, and he didn't get a chance to share his biggest concern. The point is, no matter how brilliant or insightful the coach's words were, they fall flat if the franchisee does not receive them. That is where purposeful questions come in. Here are some questions that Sullivan recommends:
What do you need to accomplish? Why is that important? How do you know?
What do you think might be getting in the way of your success? How would you know?
How would you know when you were successful? What would it look like?
Why do you think it is a problem? Have you noticed it before? If so, for how long?
How have you addressed the problem? What happened? Why do you think that occurred?
What if we can't find a solution?
How could you approach the problem differently to attain a different outcome? What are we assuming?
What don't you know that might be helpful to resolve the problem(s)?
What do you need from me to help you? How will you use that?
What do your junior managers need? Why? What are their major obstacles? How do you know?
This is not to say the coach is not to speak when there is a point to make. It is a balancing act between asking questions and speaking.
Last Word
The franchise coach's role is known as the hardest job in franchising. With that pressure, sometimes there is a feeling that you need to know everything. But there is a freedom to collaborating and connecting – it is the freedom to find answers and do the work together. It is also the freedom to share responsibility for the success that you build together as a team.
Wondering how franchisors can improve their franchisee engagement? Download our eBook, High Impact Franchisee Engagement.