Join Us for a FranConnect Webinar on October 2nd at 2 PM ET / 11 AM PT
FranConnect's Product Management Team is excited to invite you to an upcoming webinar that unveils our latest enhancements included in the October 2023 release.
In this webinar, we will be covering: Improve your franchise communications, engagement, and collaboration by effectively sharing company updates, operational manuals, marketing assets, and more.
The latest updates include:
•

Improved Interface: Enjoy a visually appealing and user-friendly experience.
•

Seamless Document Previews: Preview documents for an enhanced user experience. *
•

Customizable Controls & Permissions: Foster improved collaboration with tailored access. You can now control download access for certain types of documents, such as your operational manuals. *
Note: *The download access control and previews currently work with the new library, command center, and global search, and is compatible with document formats that support previews.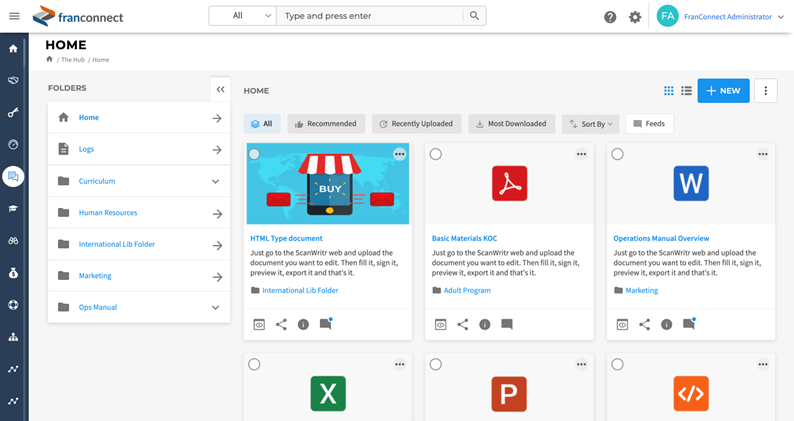 Centralize franchise communication from Gmail:
The new FranConnect Email Uploader lets you upload multiple emails from your Gmail email account to FranConnect, without needing to download any plugin or software!
Note: FranConnect Sky for Gmail chrome extension is no longer supported and will be retired starting January 2024. Please migrate to the new Email Uploader to continue to upload emails to FranConnect from your Gmail email account.
Categorize 'Sold but Not Opened' Units as a separate Lifecycle stage [Currently in Beta]
Track units across various lifecycle stages, such as "SBNO" (Sold but Not Opened), "On Hold", "Onboarding" stages. Leverage the newly added "Franchise Type" and "Lifecycle Stages" reporting filters to quickly narrow down and view only the most relevant data tailored to your specific needs.
Streamlined Franchise data management with API Integration & Real-time Webhook Alerts
Leverage the updated Unit APIs for improved data synchronization for store and territory data across your systems. Updated webhooks also notify you about changes in owner or employee details within a unit record.
New Cash Basis Option for QuickBooks Online Integration:
In addition to the accrual basis option, we've introduced a cash basis option for importing Sales reports for Royalty Calculations. Catering to diverse business accounting needs, this enhancement ensures more flexible and streamlined reporting and royalty collections.
View Royalty Invoices Tailored to Franchise Agreement
Provide transparency on the financial aspects of the franchise agreement and financial information to your franchisees. You can now set up unique sets of Additional Invoice Items, with variable values, and map them to different Agreement Versions, thereby providing location-specific configuration and views.
Don't miss this opportunity to explore and learn about our newest features! Register today.
Important Reminder: Activate the new Hub Library interface before November 2023 to maintain an uninterrupted user experience. Click here to learn more.
Activate Your New Hub Library Today!