Upcoming FranConnect Release Webinar
As we enter the last quarter of the year, we are excited more than ever to continue rolling out new capabilities and updates for you each month.

Join us on October 5, at 2 pm ET/11 am PT, where we'll walk you through some of the new capabilities and updates we'll be releasing in October.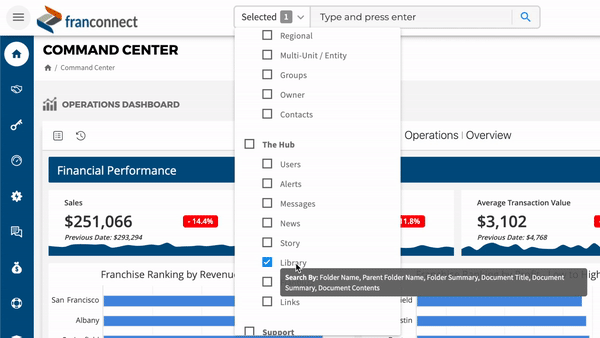 October Highlights.
Find information faster with improved Search


With this latest update, we've made the global Search within FranConnect more intuitive to help you refine your search results to specific applications. With an improved layout, navigation, and search attribute information, you can now get the information you are looking for instantly from anywhere within FranConnect.

Improved Management of Dynamic Training Curriculum


As your business grows, so do the training needs of your franchisees and their employees. When new brand initiatives are rolled out or previously shared information is no longer relevant, you need ways to evolves your training curriculum




With this latest update, you can now completely update your training plans to add or remove courses and courses to add or remove lessons. Additionally, you can trigger notifications to keep the participants updated on the changes.
• Leverage Two Factor Authentication(2FA) to add an extra level of security when logging into FranConnect.
• Manage companies you interact with as an Entity record without needing to have an associated unit within Information Manager.
• Electronically re-disclose FDD to any contact within the franchise ownership group such as owner's spouse, guarantors, investors, etc., in addition to the unit owners right from the ownership Entity information.
•
Multiple security, compliance, and performance improvements.