Join our Product Management Team Tuesday, November 1st, at 2 pm ET/11 am PT, as we walk you through FranConnect's latest capabilities in our November release.
Sneak Peek of the November Highlights

Newly Designed Hub Library [Beta Testing]
The library in the Hub enables you to centrally manage and share operations manuals, marketing assets, and more while maintaining version control with your franchisees.
The refreshed user interface with updated layout, typography, and iconography provides a modern look and feel which is more visually appealing and easier to navigate.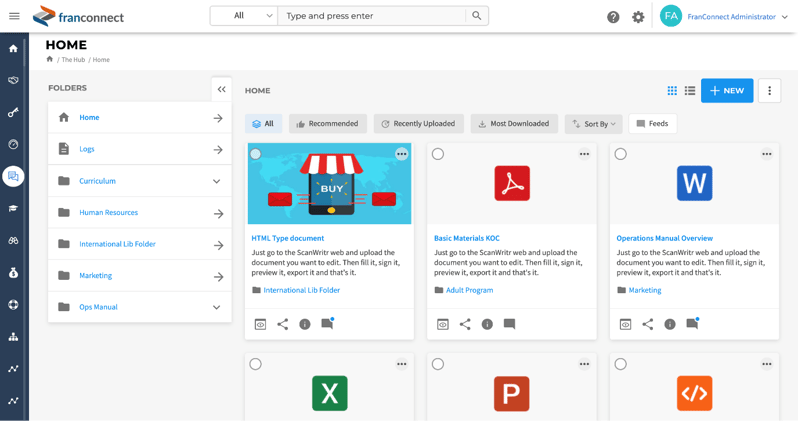 Sales Leads Audit History Now Available [Beta Testing]
You can now view a lead's field history to gain actionable insights on how it performed over time as well as manage it more efficiently.
Within the lead record, the newly added Audit History tab provides a detailed view of what, who, and when changes were made to the field values to help you enhance your lead tracking data accuracy in your system of record.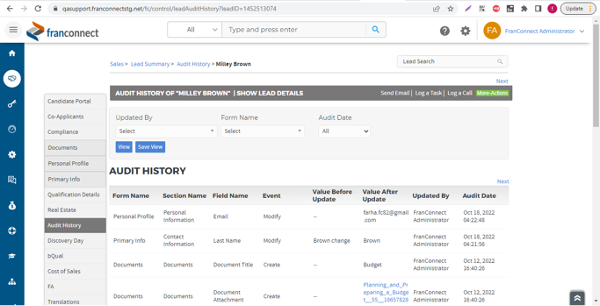 You can email me to request beta access to the above capabilities!
Wait, There's More...
Modernized User Interface for the FranConnect Sky and Field Ops Mobile Apps. In addition to the UI enhancements, you'll experience improved stability and performance when using mobile apps. The update has no impact on the mobile app functionality.
You can now include Franchise ID, Center Name, and Owner Name details to your Projects task notifications and assist various stakeholders in quickly identifying the unit in which tasks need to be processed.
Royalty Manager now supports assigning multiple agreement versions that include your royalty calculation rules to ensure the timely collection of royalty payments.
Track and share your Supplier Contacts across various departments with your franchisees in the Hub Directory.
Use the unique identifier for your hierarchy levels in the Segments API to keep the hierarchy information consistent across all your systems.
We are introducing a new way to use Gmail to upload emails to your FranConnect system.
The FranConnect Email Uploader for Gmail, available on Dec 8th, 2022, allows you to upload multiple emails from your Gmail account to your Leads, Brokers, Units, Entities, Multi-Unit, Regional, and Customer records in FranConnect, without needing to download any plugin or software.
Click here to get a sneak peek at the workflow setup steps and how the FranConnect Email Uploader for Gmail would work.
Note: Starting Jan 1st, 2023, the FranConnect Sky for Gmail extension will no longer be supported.
Hope to see you there!