It's almost the end of 2021 – leaves are falling and updates to your FranConnect platform are calling!
Join us Tuesday, November 2, at 2 pm ET/11 am PT, where our Product Management team will walk you through the new capabilities in the November release, and answer your questions along the way.
Sneak Peek of the November Highlights:
All New Parent-Child Relationships for your Franchise Ownership Entities
As your business grows, so do your multi unit franchise ownership structures. Whether defined as a parent or operating entity, subsidiaries, or anything else - you can now relate, manage, and navigate your related entities quickly and easily.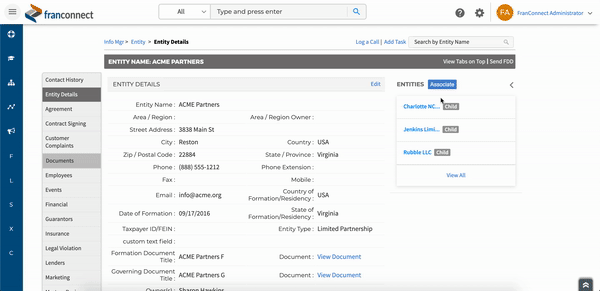 Introducing CardConnect Integration:


Automate Royalty Payments and Other Fee Collections
Getting timely payments while ensuring accuracy and reducing overhead for your financial team is critical to managing consistent cash flow for your franchise.
Our brand new integration with CardConnect automates your royalty payments and other fee collection processes. Additionally, you get complete visibility into payment status to effectively manage AR aging.
Keep Your Location Data Updated Across All Your Systems in Real-time
With this update, we've added new events for locations like add, modify, transfer, terminate, and deactivate to the Information Manager Webhooks API.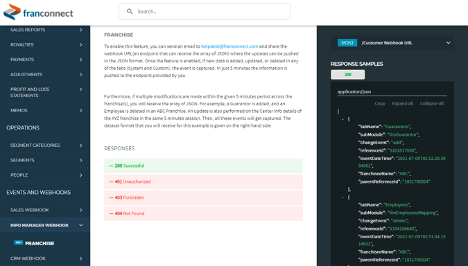 But wait, there's more...
Enable Two Factor Authentication (2FA) to add an extra layer of security for your franchise candidates when logging into FranConnect's Candidate and FDD Item-23 signature portals
Ensure training compliance and monitoring of your franchise learning programs by limiting the number of quiz attempts to pass a lesson within a course
Setup dynamic teams [Beta] for targeted communication across your network, using alerts and messages in The Hub
Manage and track a paper trail of your submitted franchise applications by storing the details in a print ready PDF under the lead profile in Franchise Sales
Multiple security, compliance, and performance improvements