Join our Product Management Team Tuesday, May 3, at 2 pm ET/11 am PT, as we walk you through FranConnect's latest capabilities in our May release.
Sneak Peek of the May Highlights
A new way to track and log Email Activity from Office 365 in FranConnect
The new FranConnect Email Uploader for Office 365 lets you upload multiple emails from your Office 365 email account to your Leads, Brokers, Units, Entities, Multi-Unit, Regional, and Customer records in FranConnect, without needing to download any plugin or software!
Connect your Office 365 account with FranConnect, configure folders you want to upload the emails from, navigate to the record you want to upload the emails for, and click on the Email Upload link to get started.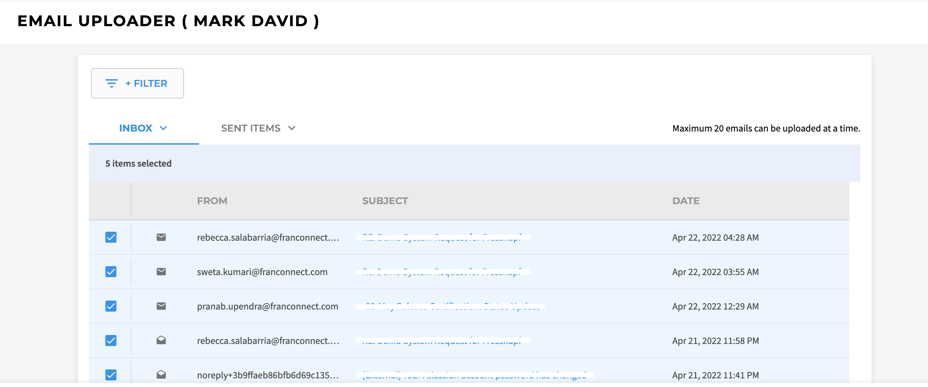 Note: The new email uploader currently works for Office 365 only, for Gmail or other email systems; please continue using the plugins available in Microsoft Outlook or Chrome Store
One unified view of your units - Now Available in Information Manager
With our May release, you can now access unit details, such as unit opening checklists, agreement details, contact history, and much more for all units from one unified view in Information Manager.
The extended field-level security allows you to restrict users' access to view and edit specific unit attributes. Additionally, you can quickly track unit information and activities from anywhere within the unit profile with enhanced usability updates.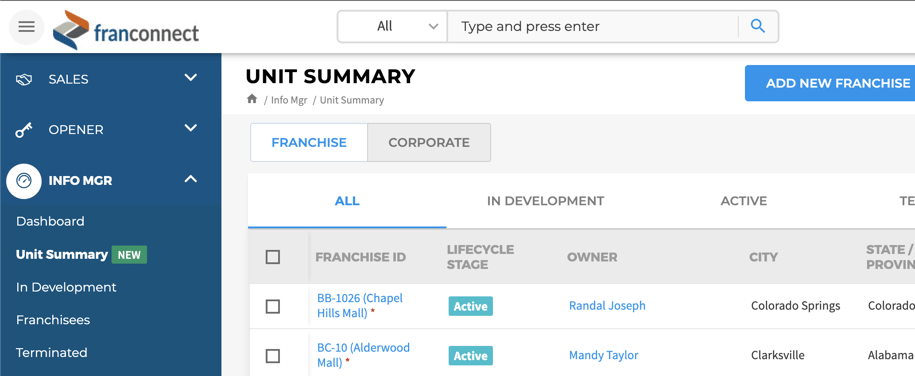 Note: You can enable this option in your Information Manager by adding "Can View Unit Summary" permission to your user roles
But Wait, There's More...
Leverage the Contact Report Dashboard to monitor time-to-lead across various timeframes (ranging from 30 minutes or less to 240 minutes and above) and ensure a timely response from your Franchise Development team to the initial inquiry to maximize conversion rates.
Easily associate and manage the Franchise Owner relationships with their Entities and Units right from the entity record to ensure accurate tracking of your franchise ownership details.
Efficiently schedule field visits in bulk for your Field Business Consultants using Unit and Segment filters and the newly added Create Visit action on Unit Summary views.
Track your operations playbook progress using newly added playbook statuses to prioritize your efforts as part of your brand initiatives and action plans.