Join our Product Management Team Tuesday, January 11th, at 2 pm ET/11 am PT, as we walk you through FranConnect's latest capabilities in our January release and answer your product questions.
Sneak Peek of the January Highlights:

Introducing Training Playbooks

Manage the development of franchisees' learning and knowledge to achieve business goals by assigning advanced training playbooks in Operations.
You can now automate your franchisee training plans and course assignments based on months in operation, compliance status, score, or other unit attributes.
Unified View of Your In-Development Units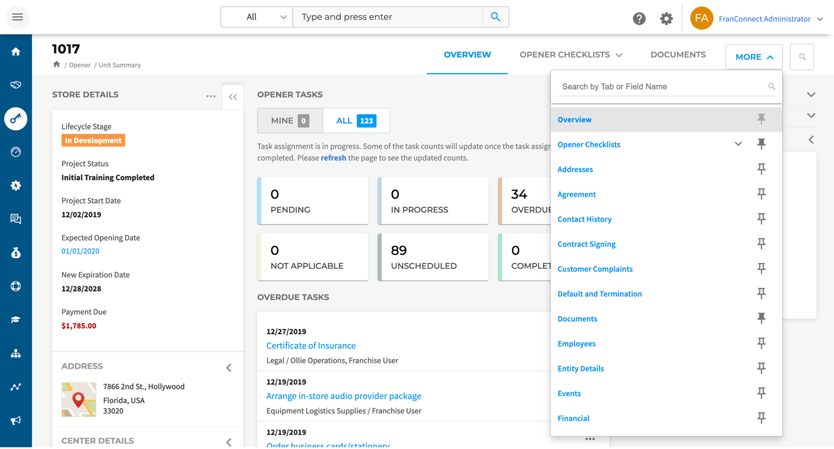 Access all details, such as their opening checklists, agreement details, contact history, etc... for your In-Development Units in Opener.
With extended field-level security and enhanced usability, you can now enable your franchisees to easily update their In-Development Unit information all from within Opener.
But Wait, There's More...
Restrict access to your franchise application, qualification questionnaires, and other data collection web forms by password using enabled web form security options in Franchise Sales, Information Manager, and Market CRM
Ensure accurate country information collection from franchise candidates, franchisees, and customers by configuring default country in the "country dropdown" for your forms in Franchise Sales, Information Manager, and Market CRM
Easily find signed Item-23 or FDD receipt information leveraging filter options on the FDD listings in Information Manager
Dynamically update and preview lead or franchise information from FranConnect in your agreements, contracts, and other documents in DocuSign before sending to candidates, co-applicants, and franchisees in Franchise Sales and Information Manager
Share aggregated compliance scores with your franchisees using expanded tabs, section, and question score visibility in the visit summary PDF in Operations
Automate corrective actions and task assignments to your Field Business Consultants or Coaches leveraging enhanced workflows in Information Manager
Quickly troubleshoot import errors for franchise candidate, unit, and customer information uploads with a simplified upload history view in Franchise Sales, Information Manager, and Market CRM
Register for this live webinar now!