It's full steam ahead at FranConnect with lots of exciting product updates this month! We are particularly excited to provide your Franchise Development, Operations, Legal, and Administration teams with one unified view of your units across their lifecycle.
You can now access details, such as unit opening checklists, agreement details, contact history, and much more for all units from one unified view.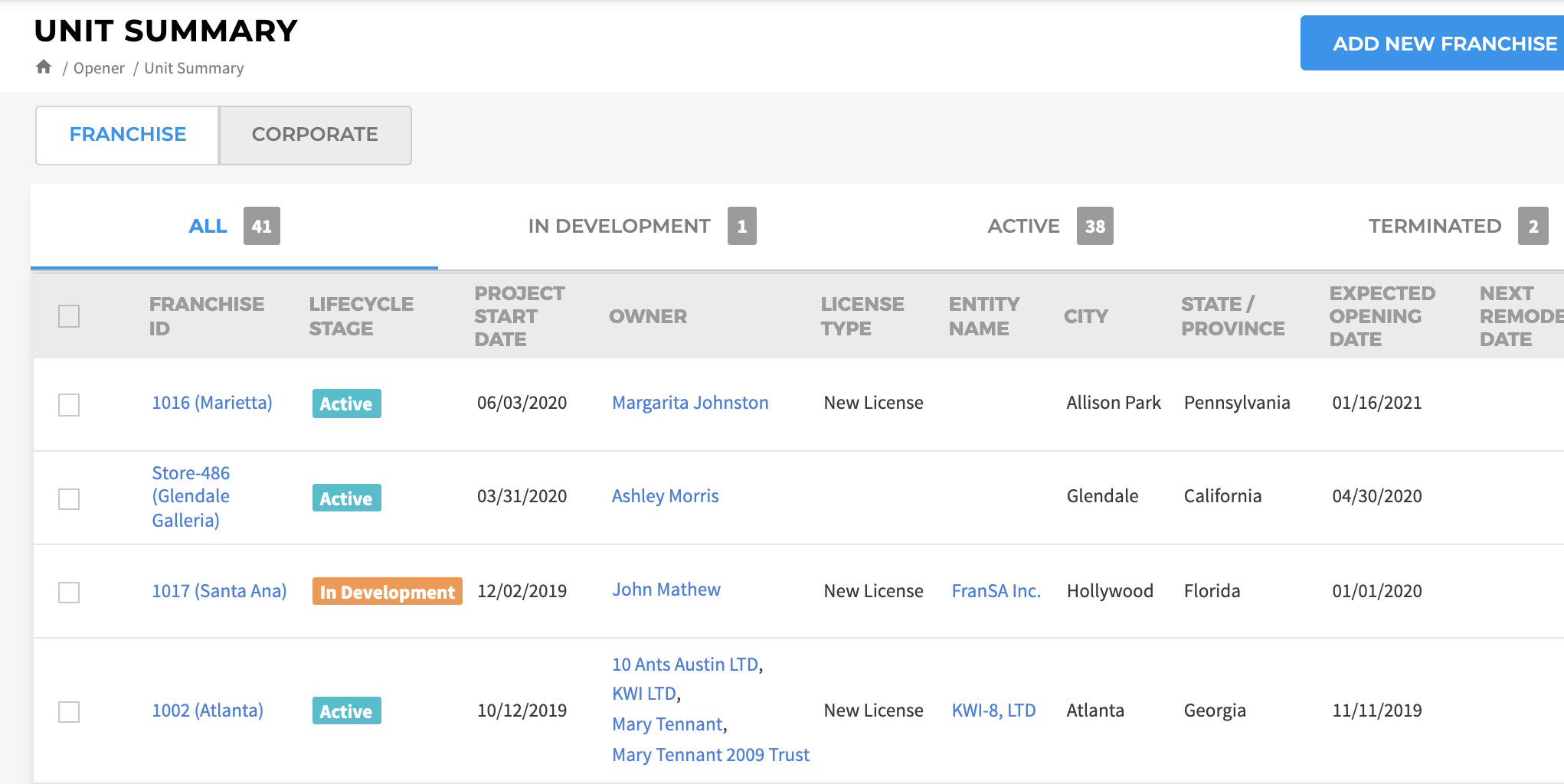 Join our Product Management Team Tuesday, February 8, at 2 pm ET/11 am PT, as we walk you through FranConnect's latest capabilities in our February release and answer all your product questions.
Here's a sneak peek at some of the capabilities we'll cover as part of this session:
One unified view of your units across their lifecycle. With extended field-level security and enhanced usability, you can also restrict user's access to view and edit specific unit attributes.

Enable your franchise development team to send your franchise disclosure documents globally. With the improved flexibility in creating receipt labels and instructions, you can customize FDD's and receipts to configure for each country

Manage FDD compliance by tracking signed receipts for each lead and their respective individual co-applicants. Additionally, you can now configure the receipt signing to ensure the lead reviews the FDD in its entirety before signing the FDD Receipt

Efficiently create workflow automation for scenarios that need only minor adjustments to the workflow conditions or actions by leveraging newly added Copy and Customize Workflows capability

Setup advanced royalty rules that include non-financial categories such as customer count, number of transactions, agent count as a factor to process automated and timely Royalties

Access your operations playbooks from within one unified Unit's profile for easy tracking of execution of your brand initiatives and action plans to improve unit-level performance

Ensure your field business consultants collect complete field observations through photos during field visits by enabling attachment only response type options and making attachments required based on your field visit checklist

Provide a seamless login experience for your operations team on the FranConnect Field Ops mobile app by configuring Active Directory based SAML Single Sign-On (SSO)
Register for this live webinar now!