Join our Product Management Team Tuesday, December 6, at 2 pm ET/11 am PT, as we walk you through FranConnect's latest capabilities in our December release.
Sneak Peek of the December Highlights

Analyze and Optimize your Franchise Broker Performance and Relationships
Franchise Brokers are one of the significant lead sources for your potential franchise candidates. You and your team need to manage and nurture Franchise Brokers' relationships to maximize ROI on your Franchise Development efforts.
You can now leverage two brand-new dashboards for insights into Franchise Broker Performance and Engagement and get a complete picture of how engagement impacts performance for optimal franchise conversion.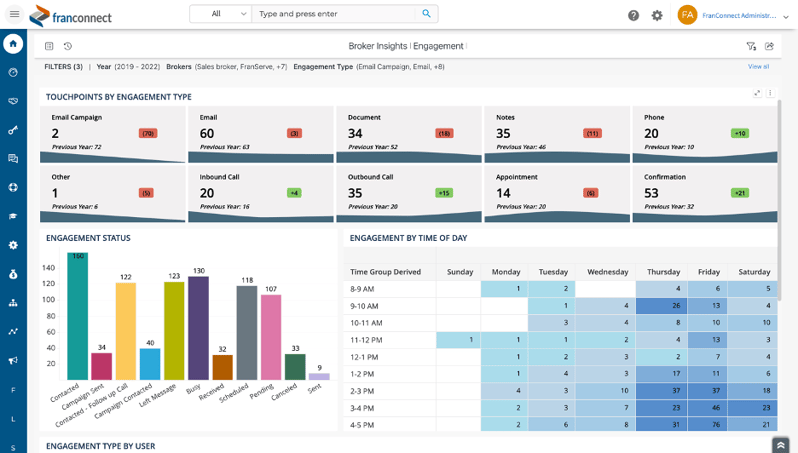 Download the FranConnect Insights mobile app on your iOS or Android device to access Broker Insights on the go!

Introducing a new way to use Gmail to upload emails to your FranConnect system!
The FranConnect Email Uploader for Gmail allows you to upload multiple emails from your Gmail account to your Leads, Brokers, Units, Entities, Multi-Unit, Regional, and Customer records in FranConnect without needing to download any plugin or software.
Click here to get a sneak peek at the workflow setup steps and how the FranConnect Email Uploader for Gmail would work.

Note: Starting Jan 1, 2023, the FranConnect Sky for Gmail extension will no longer be supported.
But Wait, There's More...
A visual timeline of your Projects using the new Gantt view. You can now view Actual Completion Date for the Completed Tasks in addition to the project tasks schedule, related task dependencies, and overall timelines across Units in a Gantt view.
Access the Unit's Segment, and Hierarchy attributes from the Unit profile using the new preview option on the Segments card.
Configure your personalized Unit and Entity Summary views to include Entity and Owner information across your Franchise Entity hierarchy.
Maintain the SCORM content progress to enable the participants to resume the lesson from where they left off. Additionally, ensure training participants are only able to Mark the Lesson as Complete once they have completed the course.
Preview a particular Unit's Command Center view leveraging the newly added Unit view layout template. This update also maintains any updates you make to your views on the Command Center as you switch across various pre-built templates.
Performance and usability improvements for the Field Ops Mobile App.
Hope to see you there!