Join our Product Management Team Tuesday, August 2, at 2 pm ET/11 am PT, as we walk you through FranConnect's latest capabilities in our August release.
Sneak Peek of the August Highlight

Enable your franchisees to view and manage their Unit information
With our August release, you can now enable franchisee access to the new unified Unit views in Info Manager and allow all stakeholders to manage the Unit Information from one unified record through the unit lifecycle.
The extended field-level security allows you to restrict users' access to view and edit specific unit attributes. Using the Audit logs, you can monitor the change history for the unit attributes.
You can enable this option in your Information Manager using "Can Access Info Manager" and "Can Manage Units" permissions to your franchise user roles.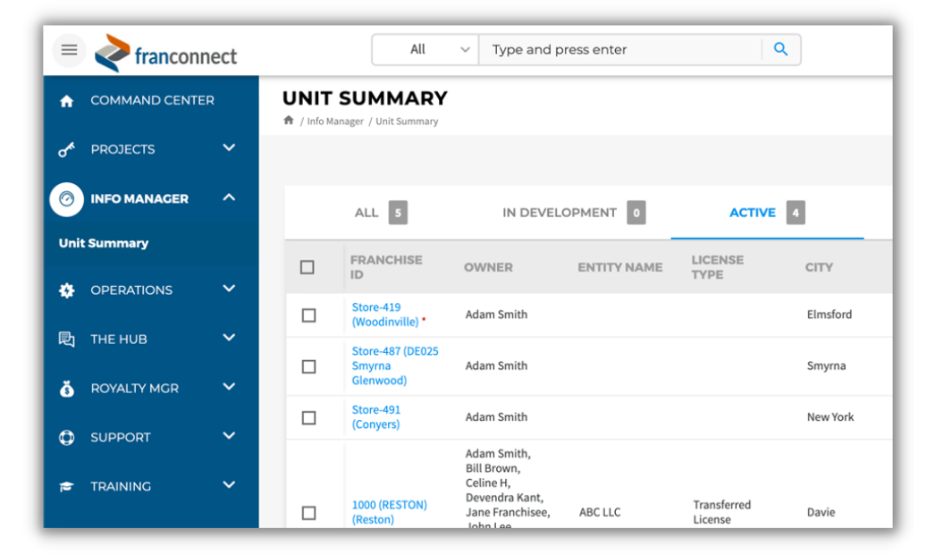 Note: Additional capabilities to be released in October - When navigating to the Unit listings and details from the Command Center, Search, Reports, etc., you will be redirected to the new Unit Summary and Profile view. Leveraging the new views, you can access the unit details, such as unit opening checklists, agreement details, contact history, and much more for all units from one unified view.
But Wait, There's More...
Update "Add Location" forms through the form generator to control if Center Name, City, State, Country, and Phone fields should be required when creating a new Location record to capture the most updated and accurate location information.
Manage Entity-Individual associations as part of the Unit Ownership structure to ensure accurate and consistent tracking of your franchise ownership details.
Upload site architecture technical designs and blueprints for your units to centralize all key documents in your system of record.
Control cross-brand visibility of franchise contact information for your franchisees in the Directory, Address Book, and Calendar in the Hub.
Include help descriptions in the Visit form PDF downloaded on your mobile device for your brand consistency evaluation checklists to use the content as a reference when capturing observations during the field visits.
Analyze franchise A/R aging, Royalty and Sales Report submission status, and trends across your brands and franchise owners to optimize your royalty management.
Bulk export customer information to view a magnitude of customer intelligence for additional analysis or sharing within your organization.
Quickly get started and configure your Command Center using pre-built templates based on common functions and roles within your organization.