As you work to drive efficiency and engagement across your franchise network, we've been working hard to deliver new capabilities to support your goals.
Join our Product Management Team Tuesday, April 5, at 2 pm ET/11 am PT, as we walk you through FranConnect's latest capabilities in our April release and answer all your product questions.
Sneak Peek of the April Highlights
Leverage new Top Stories layouts to drive attention and engagement to your most important brand updates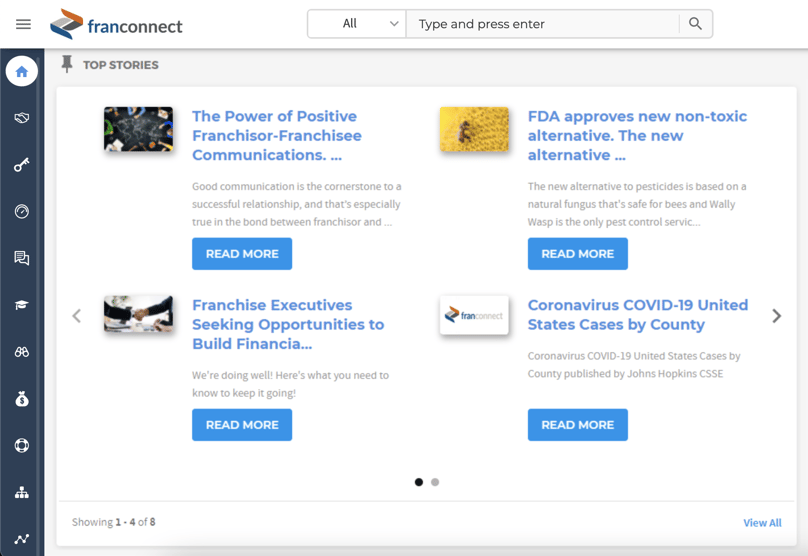 Efficiently Perform Bulk Actions on your Unit records
In our April release, we have introduced new bulk actions, such as Add Remarks, Change Lifecycle Stage, Start/Stop checklist notifications, in addition to the same bulk actions you can perform on your unit records in Information Manager on the unified unit summary views.
We have also made it easy to quickly log activity for your units right from the unit profile.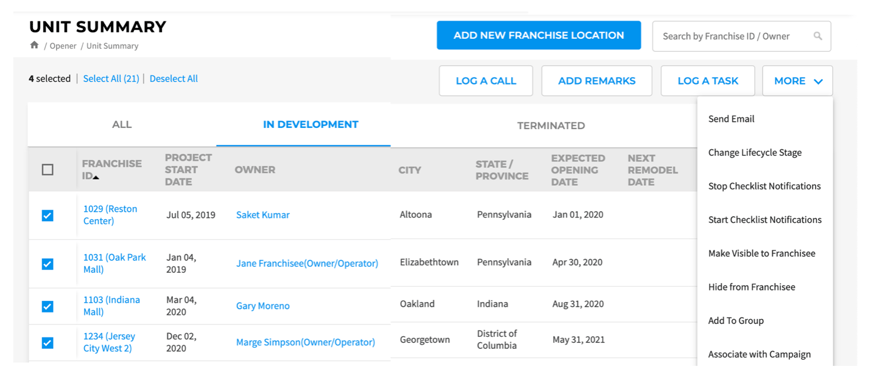 Note: These actions will be available based on the existing user permissions. For example, if a user can currently log a task for a unit in Information Manager, they will see this option in this view.
The new layouts available on your Command Center use existing Stories configured in the Hub to enable you to share the right content, with the right people, at the right time.
But Wait, There's More...
Notify stakeholders involved in Unit opening about the Unit assignment

to ensure timely execution of the opening tasks they are responsible for completing

View picture-based brand standard observations

captured by your FBCs during the field visits directly in the Visit Summary PDF

Embed links to your visit forms and evaluation checklists description

to direct FBCs or franchisees to access additional resources during the field visit or self-assessments

Setup dynamic Teams [Beta] for targeting engagement across your network

using Alerts, Messages, and FranBuzz

Analyze lead source effectiveness trends

across your brands to optimize marketing efforts for your Unit growth

Easily bulk export franchise lead information

you want to share with someone else in the organization or view lead information for additional analysis outside of FranConnect

Enable Two Factor Authentication (2FA)

to add an extra layer of security for your operations team when logging into FranConnect's Field Ops Mobile App

Provide a seamless login experience for your users on the FranConnect web application

by configuring SAML-based Single Sign-On (SSO)

Manage accurate access controls for your franchise users

as you scale your user management for FranConnect

Choose to enable a new date format displaying month names

. For example, 03/01/2022 can now be displayed as Mar 1, 2022, within the FranConnect platform