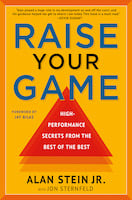 We all experienced a massive disruption two months ago with the onset of COVID-19, but the pendulum will swing back (even if we don't know when or how fast).And as we wait for it to do so, many business leaders are asking "when will we get back to a sense of normalcy?" But to that end, are you WAITING for the quarantine to end, or are you PREPARING for it to end?
Join us for this exclusive webinar to learn how you can be ready to thrive, not just survive, in the Great Recovery.
Alan Stein, Jr. is a world-renowned corporate performance coach and keynote speaker who spent 15 years working with the highest-performing athletes on the planet, including NBA superstars Kevin Durant, Stephen Curry, and Kobe Bryant. Alan teaches proven strategies to improve organizational performance, create effective leadership, increase team cohesion and collaboration, and develop winning mindsets, rituals, and routines.
During our webinar, Alan will inspire and empower franchise leaders to take immediate action and improve mind-set, habits and productivity. Alan teaches how the same strategies that elite athletes use to perform at a world-class level can be utilized in franchising to come out stronger as franchisors and franchisees prepare to reopen and recover from the unprecedented events we've all struggled with.
Attendees will benefit from learning what the highest performing athletes do during unseen hours and how in a world of social, strategic and operational distance franchise leaders can create championship cohesion, accountability, and culture.
Now is an ideal time to hit reset and refocus your lens and get back to the basics!