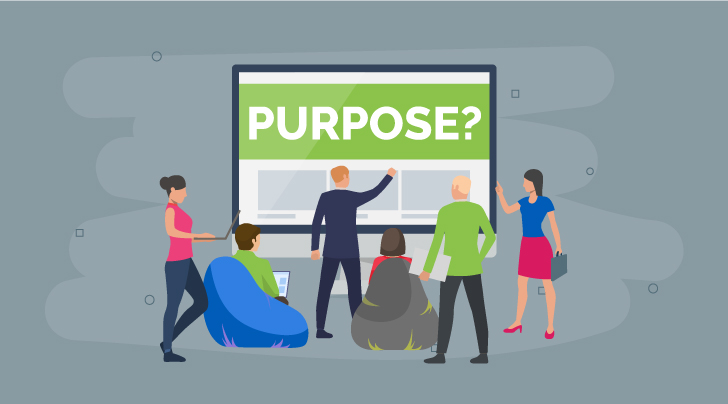 The purpose of an LMS depends on your company's goals and corporate learning strategy.
The most common use of an LMS, or learning management system, is to manage and track online training.
The learning management system has two categories of users – the instructor, who upload learning content into the LMS, and the learners, who use the LMS to complete the training.
Create Online Training Content Using an LMS
If you use an LMS that doesn't require third-party software, you'll find it easy to create content. World Manager is an LMS like this – it comes with inbuilt self-authoring tools.
With the World Manager LMS, you can create outstanding content that's optimized for mobile devices. The LMS incorporates videos, images, and audio all in one suite so that you don't need to use multiple eLearning tools.
Your learners can access the LMS using a login and password once learning content is uploaded.
Although an LMS automates learning, it ensures that your work as an instructor continues throughout the learning process. The LMS tracks your learner's progress through assessments to discover barrier points so you can intervene accordingly.
Using the LMS to measure their level of engagement through surveys and real-time reports will help you to improve your training efforts.
This article will show you the different ways you can use a learning management system or LMS for your training initiatives.
World Manager proudly supports some of the biggest communications companies in the world with online learning management.
The Purpose of a Good Learning Management System (LMS)
---
A Good LMS Improves How You Administer Training
Whether you're tech-savvy or not, you'll quickly discover how easy it is to use an LMS. An LMS provides tools that simplify admin tasks such as user grouping, group enrollment, deactivation, and course creation.
But what makes a learning management system such a game-changer in corporate learning? LMSs are cost-effective.
With an LMS, you don't have to contend with the heavy expenses of instructor-led training and outsourced seminars.
Since an LMS is an online platform, your employees can learn at any time during the workday.
An LMS's round-the-clock accessibility and responsive interface allow users to learn at their own convenience on any mobile device. So employees aren't forced to learn at specific times but can gain knowledge during their downtime when they're more relaxed.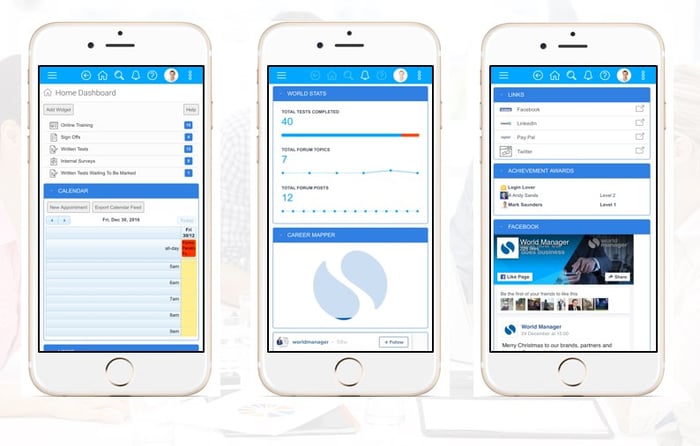 If you prefer a blended learning approach, you can use an LMS to schedule training sessions and deliver online preparatory courses.
You could have instructor-led training and then evaluate your employees online or build a content library where they can find information long after the course is completed.
A Good LMS Makes Employees Accountable for Their Own Learning Path
The best way to give your employees a sense of ownership over their training is to allow them to personalize their learning path.
You can achieve this by unlocking certain parts of the LMS navigation so that an employee is exposed to content that best suits their role.
Leveraging the Artificial Intelligence engine in your LMS will help your employees to go deeper on a topic that they're interested in. It suggests relevant topics based on an individual's learning needs and past performance.
To make your courses more engaging, you can let employees generate their own content. For instance, World Manager's LMS allows learners to create videos of their tasks, which are then marked by their managers.
With an LMS, you can empower your employees to control their career paths by learning the skills required to raise their chances for promotion.
A Good LMS Integrates Training Processes with CRM and HR Processes
An LMS allows for third-party integrations such as CRM and HR platforms. This keeps your data synced to prevent data errors.
CRM-LMS integration data can help you identify customer trends that you can use to inform future marketing campaigns.
An HRIS-LMS integration keeps all your employee data up to date. If an employee completes compliance training, for example, this report will be fed into the HRIS.
This integration will give you enhanced reports of your employees and their accomplishments from the day they were hired until their exit interview. It will also provide better visibility of the learning process and allow you to measure the impact of your training on employee retention.
A Good LMS Tracks Training Initiatives
Instructor-led programs are difficult to track and are subjective to the trainer's influence.
For instance, if training fails because of an instructor, would they be willing to include that in the report?
An LMS tracks, evaluates, and reports back on a learner's progress. You can measure these reports against your training goals and identify areas of the program that aren't meeting objectives.
LMS reporting comes complete with graphs, charts, and other data visualizations that make it easier to identify trends and patterns.
Although most LMSs have built-in reporting and analytics, you can purchase plug-ins or add-ons to boost its reporting capabilities.
LMS reports include:
Content traffic: Enables you to know what content your employees find relevant
Course status: This shows you where employees are falling behind so that you can help them get back on track
Assessment results: Enables you to gauge whether your training was effective
Progress and completion rates: Enables you to measure learner engagement
Certification: Enables you to see who's completed compliance training and when their recertification program is due
A Good LMS Consolidates Your Training Information Within a Single System
Storing all your content in a central location ensures consistency in course delivery. If you make any changes to the course, your employees can enjoy the updated content right away via the LMS.
And your employees will see the same course material regardless of the device they use.
In addition, an LMS allows you to consolidate all of your main data in one place, saving you time and money. All the information about your employees will be available for you to review and report on your training initiatives.
Since an LMS protects your data with advanced encryption, you can be sure that your employees' information will not be subject to prying eyes.
A Good LMS Increases Employee Engagement
Did you know that only 13% of the world's workforce is actively engaged?
An LMS increases your team's level of interest, optimism, and passion for learning new skills, which ultimately increases their engagement at work.
If you've experienced high dropout rates in your training programs, use an LMS to design a learning strategy that prioritizes learning engagement.
LMSs adopt a learner-centered approach through:
User groups: You can group employees based on their departments, job roles, and interests within the company.
Multimedia features: Video conferencing, forums, live chat, podcasts, and threaded discussions all provide engaging avenues for employees to collaborate.
Course levels: You can keep your employees curious by locking certain content levels until they've met specific performance standards.
Gamification: You can incentivize different actions within the LMS by rewarding learners with points, badges, and leaderboards.

Image from

Karl Kapp
Boost Corporate Productivity With the LMS for Learners
A learning management system cultivates a culture of continuous learning. A good LMS shows your employees that you're willing to invest in them, which challenges them to learn new skills.
When employees expand their skill sets, they're in a better position to adapt to the ever-changing business environment.
Through peer-to-peer learning, an LMS can foster teamwork and boost innovation; before you know it, your team's productivity will be through the roof. So will your employee retention rates.
Try Before You Buy – Book an Easy LMS Demo
If you're genuinely interested in what a good LMS like World Manager can do for your business, book an LMS demo today.
An LMS demo process with World Manager generally takes around an hour and includes the following steps:
A 5 to 10-minute callback

to assess whether World Manager's LMS is a good fit for your business.
A 30-minute webinar or video call

to discuss your business needs in more depth. You get a high-level overview of our LMS features and what an LMS can do for you. Once World Manager has a better understanding of your business needs, we will help you

decide if you actually need an LMS.
A 1-hour face-to-face video call

to really dive into your business needs. You'll discuss how we can

use our LMS to create a customized training and development platform

tailored specifically to your requirements. This LMS walkthrough will give your team a clear understanding of the LMS and how it can address your training needs.