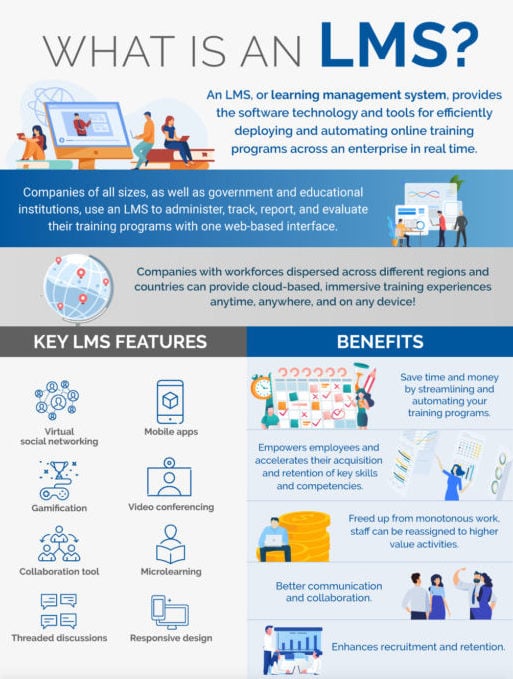 Today's LMS is not your grandparents' LMS. With an array of rich, robust features and benefits, LMS has evolved into a must-have training delivery system for universities, government institutions, and companies of all sizes.
But first, for those who may not know, what does LMS stand for? It stands for learning management system, a powerful software application that simplifies and automates your company's training programs. Organizations can create a suite of customized training courses and materials that can be administered, tracked, reported, and evaluated using one web-based interface. The automated LMS can do many things, including finding skill gaps, enrolling staff in relevant courses, and communicating with HR when training is completed.
The demand for LMS is, no surprise, off the charts. In fact, the LMS global market is expected to grow to $15.72 billion by next year.
What Is the Main Function of an LMS?
Keep in mind that there's no "one size fits all" LMS definition; every LMS is customized based on the unique needs of the organization. That said, the primary function of an LMS is to provide companies and institutions with the technology and tools for effectively deploying and managing online training programs across an enterprise.

So, what is an LMS system? We call LMS a system because it is a comprehensive, integrated, and enterprise-wide solution. Trying to implement piecemeal change is less likely to have real impact, so having an LMS allows a complete, comprehensive system to easily store, organize, track, and access training content and data.
Who Can Benefit from an LMS?
What is a learning management system best used for, and by whom?
Companies and Organizations of All Sizes:

An LMS offers an "anywhere, anytime, any device" platform, which appeals to a broad range of enterprises and organizations, from government and universities to restaurants and Fortune 500 companies.
Employees at All Levels of Your Organization:

LMS technology puts employees in the driver's seat and captures their attention – not an easy thing to do, especially for millennials and members of generation z. Most important of all, an LMS enhances and accelerates your employees' acquisition and retention of important work and interpersonal skills.
The HR Department:

An LMS empowers trainers and provides HR managers with the tools they need to implement more effective onboarding and to track and monitor employees' progress regarding training and skills development.
Managers:

An LMS is a must-have system for managers because it helps them get a better understanding of their team members' capabilities and identify any training gaps that need to be addressed. According to one

study, corporate-level executives (45%), directors (30%), and managers (25%) are the main beneficiaries of learning management systems – but that is changing as deployment ramps up.
Types of LMS
With a Software as a Service (SaaS) solution, you don't have to worry about backing up data and dealing with servers and security issues. Since it's hosted on the cloud, your LMS vendor will handle all of that for you, so you can focus on creating the best content for your next training. There's no software to install, so it's easier and faster to get up and running. The LMS app is installed on a desktop computer, but is accessible anytime, anyplace via mobile device.
There is a self-hosting LMS option available for companies that have the time and resources to manage it. This more hands-on approach first requires that you download the software.
Benefits and Outcomes
What is a learning management system able to do for your company? Investing in an LMS brings significant benefits to the organization, including enhanced communication and collaboration between trainers and the HR department. Real-time, automated reporting, and communication mean staff can work more efficiently and productively. It frees them up from routine, time-consuming work and enables managers to reassign employees to higher-value activities.
Every training participant receives a customized online training experience, which is not only empowering but also fun. Companies that utilize LMS are more likely to produce highly trained and engaged employees due to their immersive, interactive nature. LMS systems allow companies to capture the attention of younger employees who might otherwise become distracted and lose interest in the training. Gamification features provide for a little friendly competition among participants, motivating employees to complete their training and making learning new skills fun. The flexibility and convenience inherent in a mobile-first LMS appeal to your on-the-go employees; in fact, investing in technology that makes employees' jobs easier shows you care about them and helps with recruitment and retention.
Key LMS Features

An LMS takes the learner's needs into account, allowing for a rich mesh of features, including:

Virtual social networking

Mobile apps

Responsive design

Gamification

Video conferencing

Threaded discussions

Collaboration tools
Instructors are also empowered through the modern LMS. In the past, an instructor had to follow up with a learner every time a course was incomplete. Today, an LMS self-assesses and makes an intervention without the instructor's input – an incredible time-saving innovation. The instructor can now focus on creating new learning material or following up with students who require a more in-depth understanding of the course.
An LMS is now:
Mobile-first:

You can complete an LMS course on your mobile device when you're on the go.

Digital:

You have 24/7 access to learning material. Cloud-like functionality allows you to store information in the cloud and access it whenever and wherever you want.

Microlearning-based:

Learning is delivered in small chunks so you can easily take in information.

Social:

You can integrate social tools in your LMS to allow for chat and video conferencing.
Fueled by sophisticated software and AI, learning management systems have come of age and are transforming the employee training and development industry. LMS systems have evolved to meet the needs of new generations of self-empowered employees who grew up on technology and social media. What is LMS going to look like in the future? For starters, it will be driven by artificial intelligence. It will embrace responsive design, prioritize mobile learning, and incorporate VR and AR. Now and especially in the future, it will be all about the user experience.
The demand for LMS continues to grow, especially in the wake of COVID-19. Companies with workforces dispersed across different regions and countries are able to provide cloud-based, immersive training experiences anytime, anywhere. With rich content and interactive, automated features, LMS is now regarded as a must-have training system, as well as a recruitment and retention tool, for companies seeking a competitive advantage.
With World Manager's LMS platform, you can make your own training program and interactive tests, deliver courses and get real-time reporting. Learn more about implementing an LMS in your company by booking a demo with a World Manager expert.