Running a franchise isn't easy. It's a complex, multi-layered business model. And while it's possible to implement point solutions or build a home-grown system to support the many aspects of building and managing a franchise, the team at FranConnect saw a need to create something specifically for franchise businesses.
That's why we say FranConnect comes with Franchising Built-In – franchising wasn't an afterthought, but a forethought.
As the company and our product has grown, we've accounted for every stage of the franchise lifecycle: develop, open, engage, and market. Plus, we've even created tools that link your departments across all stages of the lifecycle – what we call the "perform" stage – so valuable information is transparent and accessible.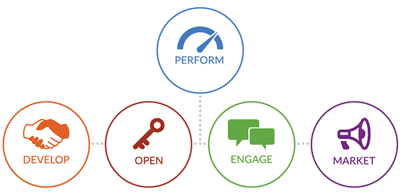 For example, there are numerous CRM systems available for your sales team, but FranConnect Sky Sales has exactly what franchisors need: FDD disclosure, statuses in the lead funnel specific to franchises, tracking from franchise lead sources, and franchise-specific reports. FranConnect Sky Finance offers royalty reporting, a key pillar of the franchise business model. And FranConnect Sky Opener is a project management tool created specifically to guide your team through the process of opening new units. Get the idea?
We constantly evolve as our customers' wants and needs evolve. As you grow, we grow; as you learn, we learn. Our team consists of Certified Franchise Executives, so we know what your challenges are and where the pitfalls are. We also know that each and everyone one of you – whether you're in services, QSR, hospitality, real estate, or any other vertical – is in business to award more units and make those units more successful. When you achieve, we achieve. When you succeed, we succeed.
Everything we've done and everything we will do has the franchise business model in mind, to help franchisors and their franchisees more effectively manage, track, and run their business.
Learn more about how FranConnect can help your franchise today. FranConnect – Franchising Built-In™.