Franchise Operations are emerging from a tumultuous storm. The phrase "sink or swim" has never been more relevant, with many businesses having to adapt and ride the wave of complex challenges brought on by COVID-19.
Today, we are still grappling with the impacts of the pandemic. There are varied economic indicators and an ongoing labor shortage. It's safe to say: Operations has never been more important – and never more challenging.
Understanding these realities, we recently hosted a webinar which combined the findings from our own Operations data analysis with feedback from our customers to help COO's identify where and how they should deploy precious human capital and their IT resources.
During the presentation, we were curious to hear experiences from the field. So, we polled our audience of 200 franchise operations executives about how the current labor shortage is impacting their business, and whether in-person visits have gone up or stayed the same since vaccine rollouts began.
The results were revealing. Take a look: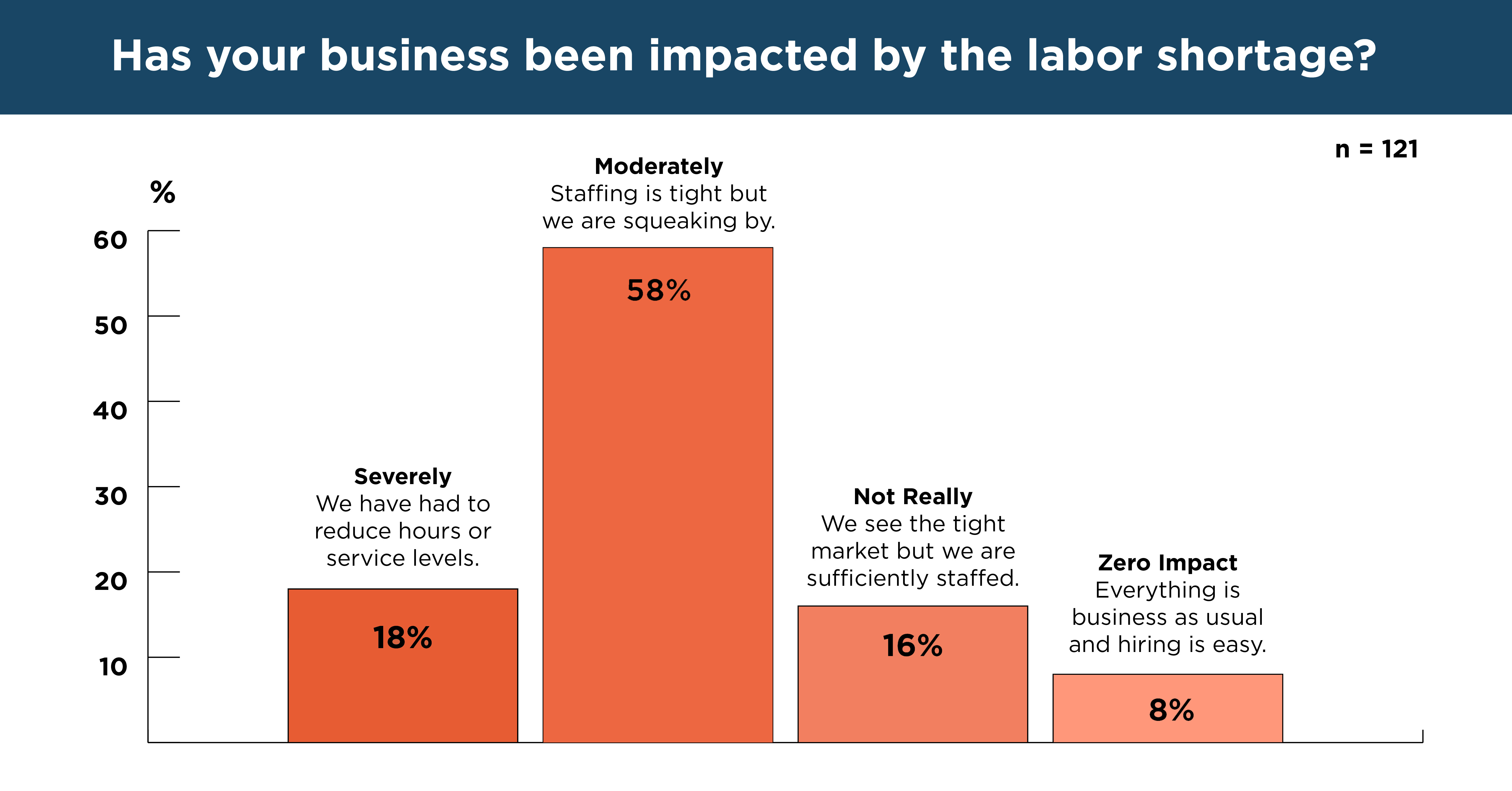 Key insights: These results confirm what we have been dreading – three quarters of respondents are moderately or severely affected by the labor shortage.
We believe the labor shortage won't last forever but it certainly won't change overnight, even with the pending elimination of the enhanced $300 weekly unemployment insurance benefits and stimulus.
In addition to aggressive recruiting tactics and incentives for new hires, brands should look at ways to support their franchisees in making more long-lasting changes to their operating models. On a related note, we asked the audience if and how their strategy for site visits has changed, based on in-person vs. virtual audits.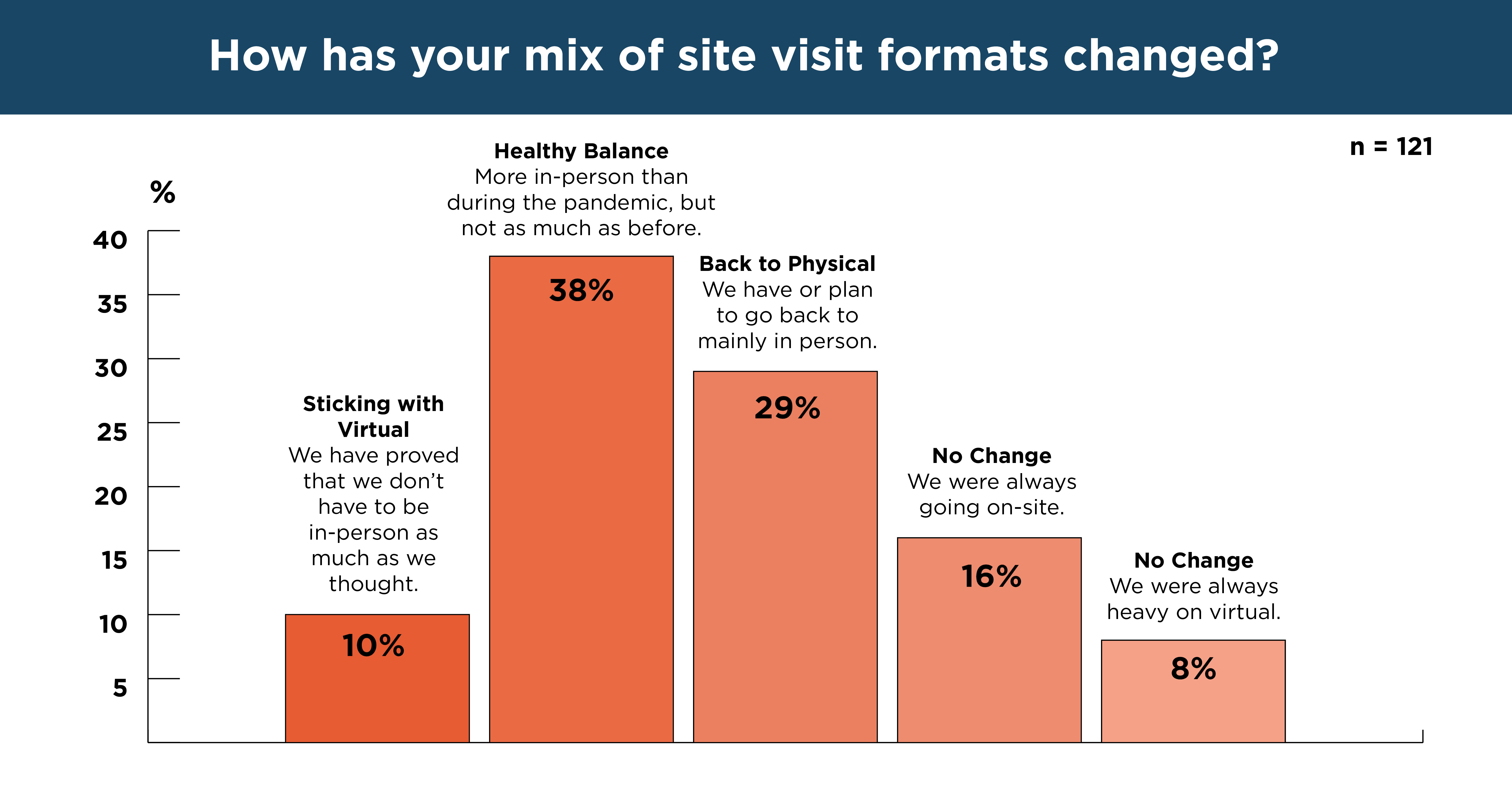 Key Insights: Only 10% of respondents say they shifted to virtual visits and plan to stick with it. This underscores the value of doing site visits in-person.
With pandemic uncertainty and travel restrictions in place, many franchise businesses were forced to turn to virtual visits, but the data from our survey indicates that most don't feel this format is effective enough to continue today. Even if in-person is more costly and time-consuming, it's worth it for most brands.
At the same time, the biggest group of respondents said would like to have a healthy balance. Presumably, this also means realizing some of the efficiency gains of virtual audits, but not giving up entirely.
Learn more about the role of Franchise Operations teams today


These survey questions were just one part of our webinar: "The Role of the Franchise Operations Team Today". It's available on-demand, and worth a review for COO's and their teams.
You'll hear and see how Operations teams can achieve:
Operational excellence via consistency and quality of service, brand compliance and field execution;
Improved unit level performance by centralizing and analyzing operational data and deploying playbooks for remediation and improvement;
Staff enablement and support through franchisee communication, engagement, onboarding and onsite staff training support;
Legal and process compliance using data management and collaboration with legal to ensure a single source of truth.
Use the takeaways from this webinar as a benchmark to make sure you have the right priorities for your franchise operations in this rapidly-changing environment.