Our latest Pulse of the Franchise Industry survey finds cautious optimism is the outlook of the hour for franchisors ready to get back to better days of doing business in the months ahead.
The study, conducted in February, garnered the feedback of 155 franchise executives on various topics related to continued pandemic-related disruption, franchise sales, recovery, and future growth plans amid vaccine rollout efforts.
The survey participants, a majority with more than 10 years of franchising experience, represented eight industry sectors: Commercial/residential services, Retail Food Products & Services, Quick-Service Restaurants (QSR), Personal Services, Business Services, Real Estate, Full-Service Restaurants, and self-described "Other."
So, what does the survey tell us? Quick-hit analysis reveals most franchisors appear to have put the worst of the economic fallout behind them, as they continue to emerge on the other side of the pandemic after a year of operational chaos. Among the highlights:
Corporate employee layoff or furlough projections are down dramatically. Nearly 90 percent of franchisors report they do not foresee further staff reductions in the next three to six months.

Franchise development is back in business. Only 7 percent of respondents say their franchise sales programs remain on hold, down from 16 percent surveyed in August.

A majority of franchisors reported no current closed locations, with nearly all service business franchise sites opened. Some in the Retail Food, sector continued to experience closures.

Outlook: New Unit Openings
Most franchise brands surveyed expect to expand in the coming months. An estimated 62 percent of respondents plan to open one to 10 units by the end of June, with 11 to 25 new locations slated for 17 percent of franchisors. In our survey, 11 percent of brands look to add more than 25 units by the end of the second quarter of 2021, with the remaining respondents staying put with their unit count.

We predict more upswing in expansion in the second half of 2021.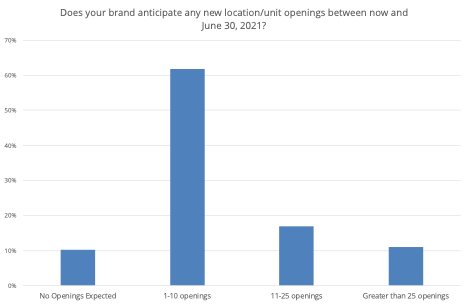 Outlook: Cash-on-Hand

Tough operating decisions made in the early months of the pandemic appear to be paying off for many resilient franchisors. More than 64 percent of franchisors queried say they have greater than six months of working capital and cash on hand; 21 percent of respondents citing cash reserves of four to six months; with two to three months of cash-on-hand for 12 percent of franchisors. Only 3 percent of those surveyed estimated available cash of one month or less.
Franchise Development

We continue to predict the potential for record-breaking franchise sales in 2021 if COVID-19 is contained. Brands of all sizes and industries are poised to capitalize on the opportunities, with 93 percent of franchisors continuing franchise sales efforts. When asked to gauge performance relative to their original pre-pandemic 2020 plan, 41 percent of respondents overall expect more significant gains than the initial goal, led by the most optimism in Commercial and Residential Services and Quick Service Restaurants.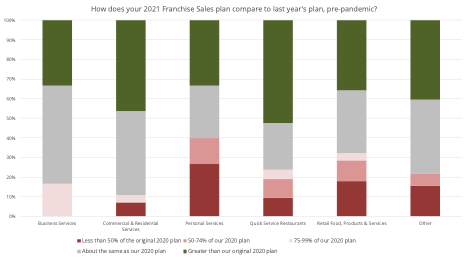 Systemwide Sales & Recovery Outlook
We also asked, "How long will it take until your systemwide sales have gotten back to where they were in 2019?" The results showed a lot of variability across industries. A little more than half of Business Services brands reported already being at or above 2019 levels. On the other hand, 30% of the other brands are projecting that it will be 2022 until they reach this milestone, with more than 10% saying over a year from now.
With that said, for each day that passes with new milestones around vaccinations and economic stimuli, we are increasingly optimistic about the second half of 2021 across the board.
Top Concerns for Franchisors

Finally, we asked Franchisors to tell us what is on their minds for their business. Government and related support and regulations topped the list, followed by growth. Not surprisingly, pandemic concerns and other uncertainty ranks high, joined by looming worry over the minimum wage debate.
We are heartened to see franchisee support as top-of-mind for franchisors, who've grown keenly aware of the need to support their franchise partners to survive and thrive. The economy and technology – two topics that may have dominated concerns in years past, round out the bottom of the list for battle-tested franchisors.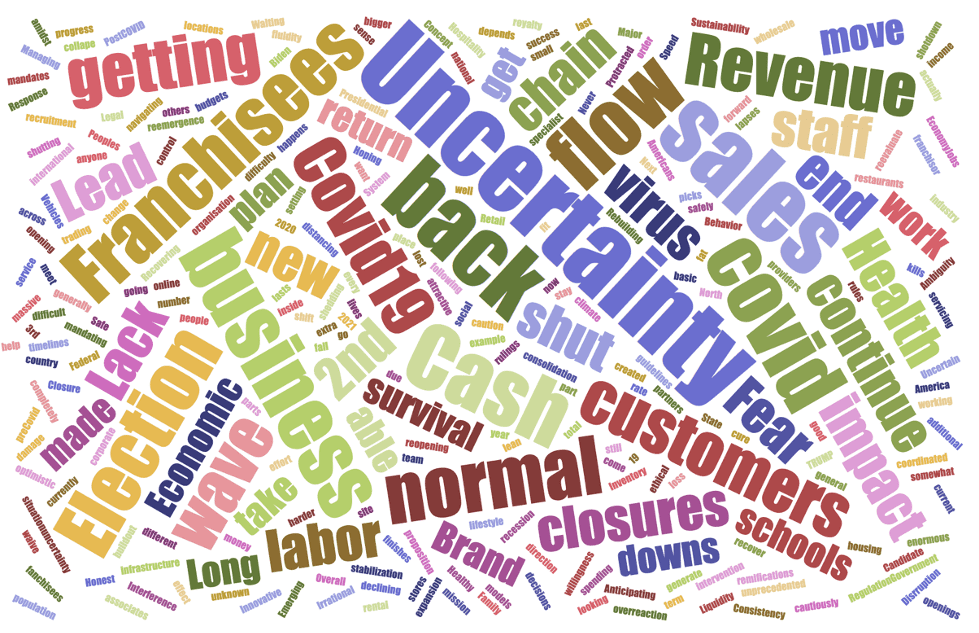 Business challenges no doubt remain, but the arrival of COVID-19 vaccines and predicted pent-up consumer demand paint a bullish future for an industry that has resiliently shined as franchisors shifted and adapted to meet this historical moment (or should we say moments) at every turn.
In its recently released Economic Outlook Report, The International Franchise Association (IFA) forecasts franchising overall will grow by 7 percent in 2021, reaching pre-pandemic economic output levels by the end of the year. For franchise leaders everywhere, it can't come soon enough.
Want more on the Pulse Survey? Check our Webinar: The State of Franchising, Winter 2021: Findings from our Franchisor Survey