In late March, as most States were entering their 2nd week of shutdowns, we surveyed 233 franchise leaders to quantify and assess the impact to their businesses. The resulting data showed exactly how quickly and directly the impacts were rippling through the entire franchising world, spanning everything from business closures, to the impact on franchise sales efforts. Participants represented 8 industries: Quick Service Restaurants, Business Services, Personal Services Residential/Commercial Services, Real Estate, Full-Service Restaurants, Hotel/Lodging, and Retail Food Products & Services.
Last week we re-surveyed the participants to see what has changed after a full month. We're going to go through each of the questions here and share our perspective on what you can take away from the results. Preview: A few surprises, some good news, and a good dose of headache on the horizon in a few places.
Franchise industry leaders are amplifying the findings from this analysis. Robert Cresanti, CEO of the International Franchise Association, said, "Franchises have been among the hardest hit businesses by the COVID-19 pandemic. Widespread store closings and uncertainty are a fact of life for franchisees and brand executives across sectors. These insights on franchise sales, executive perspectives, and 'what's next' can guide businesses as they seek a path forward."
Expected Sales Decline: The harder hit initially are trending worse.
Business leaders who projected only small declines in sales seem to be holding steady, as shown by a relatively unchanged percent of organizations who cumulatively expected less than a 20% decline. The real change was the big drop in companies expecting 21-50% drop in sales – a big chunk of this audience moved to the Greater-than-50% projection. This implies that the companies who were uncertain as to the impact are now realizing a higher impact.
One industry that seems particularly hard hit here is Quick Service Restaurants. At the end of March, 46% of QSR businesses projected at least a 50% impact to sales. But 30 days later, more than 67% are projecting 50%+ declines.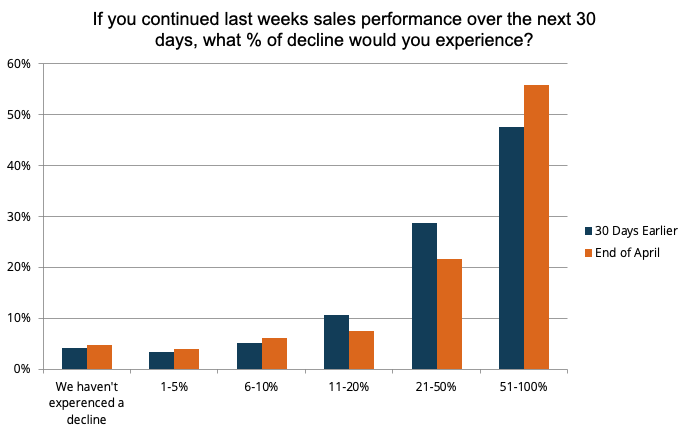 Expected time to recovery: More realistic, longer term outlook
A stark difference compared to a month ago. As the breadth of the impact is better understood, companies are projecting a longer time to recovery. Specifically, the percentage of companies who originally projected shorter recoveries (6 months or less) dropped considerably; the percentage of companies expecting over a year more than doubled (127% increase).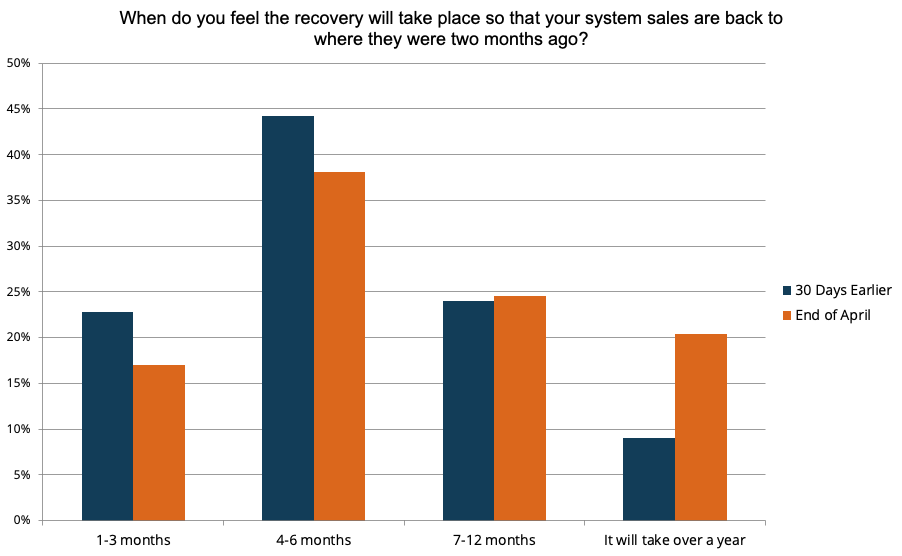 Continuing Franchise Sales Efforts: Small Uptick
Compared to a month ago, slightly more companies indicate that they are continuing their sales efforts. In late March, many leadership teams were distracted by crisis communications, location closings, employee issues, and so on. With some of those immediate matters settled, it's likely that there is more time to re-focus on sales opportunities. Also, with tens of millions of newly-unemployed professionals in the United States, the pool of prospects has grown dramatically almost overnight.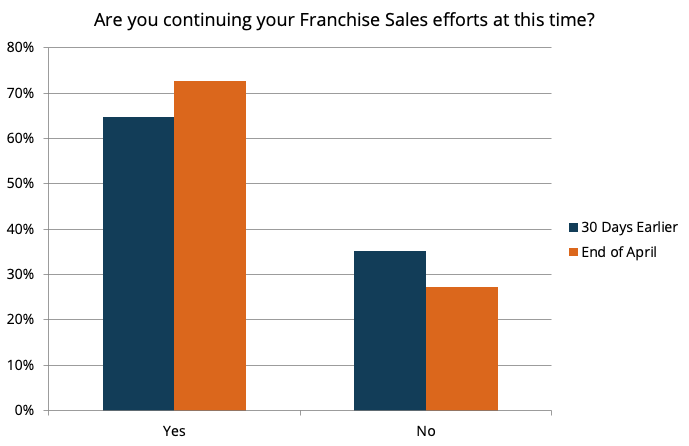 Attainment of Sales Goals: A glimmer of hope
There is increased optimism here from the group that felt they would only achieve 50-79% of plan – many of them have upgraded their outlook to 80-100% of plan. This makes sense as it takes time to re-activate the sales engines. But the most optimistic cohorts (80-90% of plan, 90-100% of plan) grew slightly, and the moderately optimistic (59-80%) dropped slightly.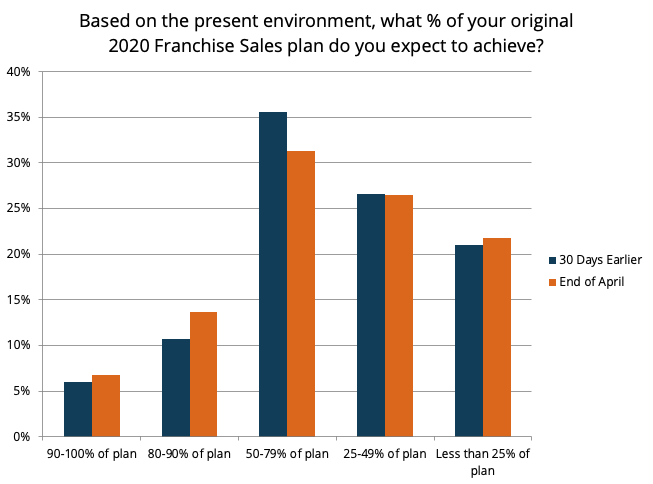 Location Closure Rates: More complete shutdowns
More companies are seeing complete shutdowns instead of partial, as compared to a month ago. Specifically, the percentage of companies reporting complete shutdowns grew by 22%. Similar to the Sales decline topic above, the businesses which were less-affected initially are holding relatively steady, whereas many of the businesses with 25%+ closure rates are seeing more closures. The drop in 26-50% and 51-99% are offset by the jump in Full closures.
Looking at the breakdown by industry, there is good news for Quick Service Restaurants – a month ago, only 33% of QSR businesses reported 10% or less location closure rates. Today that number has jumped to 59%. This indicates that even with shutdowns in place, many of these businesses have learned how to transform their operations enough to be able to re-open.
Full-Service restaurants are going in the opposite direction. The percentage of those businesses reporting 50-100% closures jumped from 38% to 59%. Many of these businesses that attempted to remain open initially have now closed, either due to evolving state guidelines, or just not enough revenue to justify operating.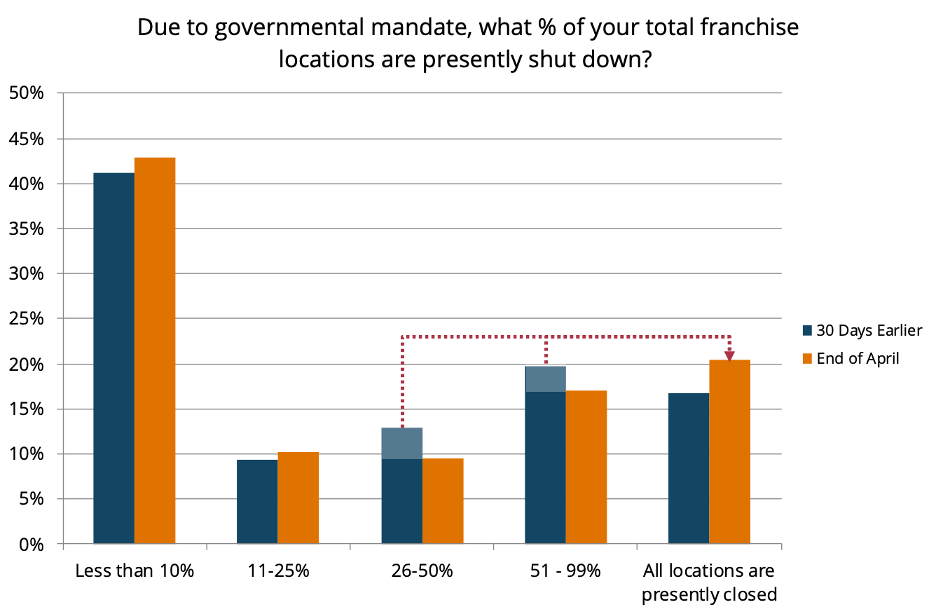 Length of Store shutdowns: Less optimism from the "hesitant"
The percentage of businesses expecting to re-open quickly, or to stay closed for 6 months+ held relatively steady. The big change was in the "messy middle" – the percentage of businesses who thought they would be closed for 1 – 2 months decreased, and they seem to have shifted to the 3-6 month timeframe. This implies that management teams who knew they could re-open right away, or knew that they were going to be shut down for a while were often right. But business leaders who were uncertain (1-2 months projection), now have a much better picture and realize that if they aren't opening now, it will still take a while.
There is likely quite a bit of geographical bias in the data. We think that franchise businesses with concentrations in urban environments are expecting longer times to recovery vs those with concentrations outside of the East and West Coast states. This is a function of the relative trend in re-opening status of different areas. The New York Times maintains a useful color-coded map showing the re-opening status of each state.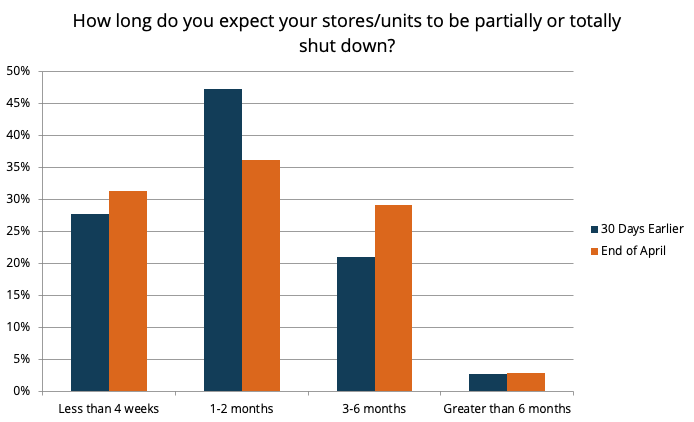 Expected Churn from Franchisees: More optimism
There are very good signs here, with big increases in the percentages of businesses expecting no churn or very little churn. Now that the reality of closures and revenue reductions have set in, this signals that more franchisees are communicating an intention to not churn. This is likely driven by some combination of solid engagement with franchisees, documented re-opening plans, and lack of other opportunities for franchisees who might be more likely to churn in a better macro economic environment. It is also worth noting that the implementation of the CARES Act, PPP and PPP2 are contributing to franchisee hope and optimism that they can weather the storm.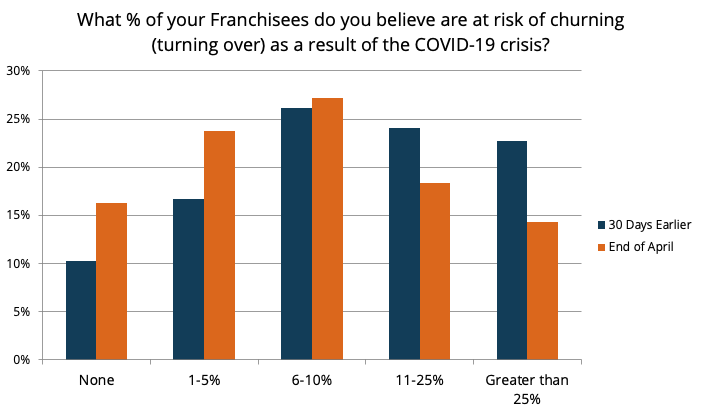 Corporate Staff Layoffs: Rapid Stabilization
Overall, 56% of businesses have had to furlough corporate staff, but what a difference a month makes. 30 days ago, the majority of respondents said they were likely to furlough additional corporate staff. Now that balance has moved to the other end of the spectrum, with the majority of respondents saying it is very unlikely they will have to do further layoffs. This is at least partially helped CARES, PPP and PPP2 having provided at least the hope and promise of the ability to maintain staff. Also, some companies acted swiftly and took their medicine up front via layoffs. Some may see light at the end of the tunnel. Overall, 46% of respondents were unlikely or very unlikely to lay off additional staff, a big jump from 21% a month ago.
A few industry-specific trends worth noting:
73% of Business Services businesses indicate that they are unlikely or very unlikely to lay off staff, up from 28% a month ago.
Commercial and Residential Services business are similarly optimistic – 43% are unlikely/very unlikely to lay off, vs 20% a month ago.
Personal Services are going in the opposite direction. 42% of these businesses are likely to lay off staff, up from just 13%.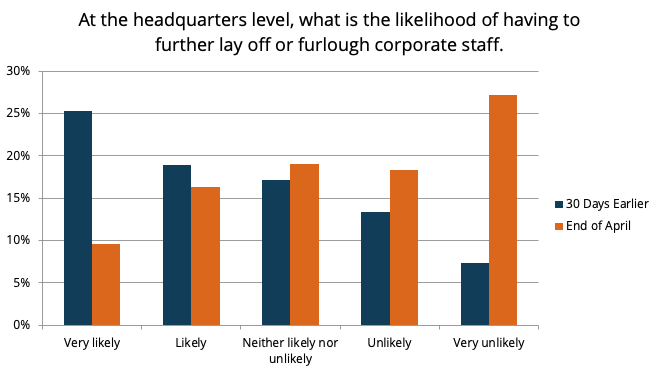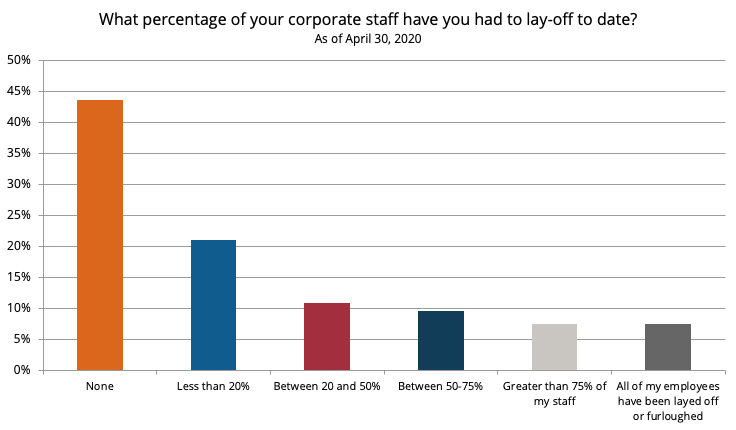 Royalty Deferrals / Forgiveness: Small Increases
There is a small increase in the percentage of businesses extending royalty deferrals to their franchisees. A month ago, 61% of respondents indicated they were doing so on a case-by-case basis, or system-wide. Today, those numbers indicate 65% are doing so. This is a very modest increase, especially given the increases in closures and expected closure rates. Maybe franchisees aren't asking for deferrals, or perhaps they don't need them, given the lack of revenue at their locations.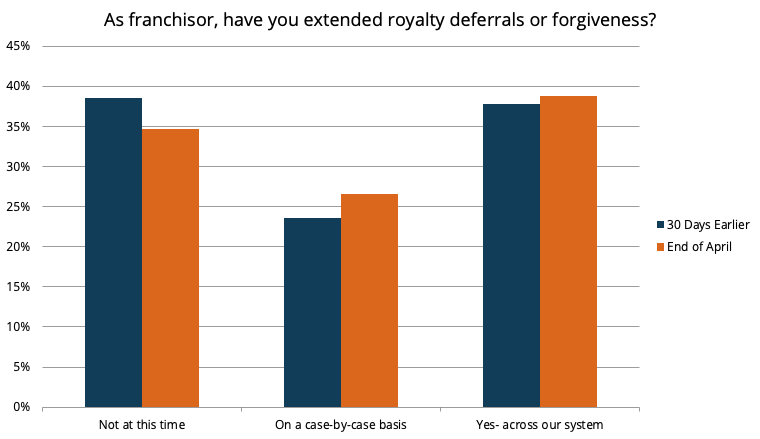 Store Opening Requirements: Fewer extensions
The percentage of businesses who are implementing or considering extending store opening requirements has dropped significantly compared to a month ago. It's our hypothesis that the amount of business failures in general (beyond just the franchise marketplace) is creating great opportunities at reduced prices. One could make the case that now is the optimum time to be looking to open up new franchises - and that in the case of brick-and-mortar, buildouts can take months and months so that short-term openings are more in alignment with franchise development agreement timeframes.
Personal Services and Business Services sectors saw the biggest shift, as both are more likely to enforce existing agreements. 26% of Personal Services report that they are not considering extension, up from 10% a month ago. Similar rise for Business Services – up to 23% from 9% a month ago.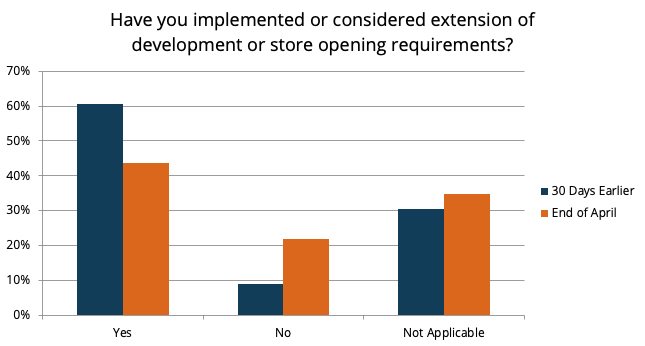 Top Concerns – Interesting What's not on Franchisor's Minds
We asked Franchisors to specify the Top concerns for their business. The most interesting takeaway is what's NOT at the top of their lists. Not surprisingly, everyone is worried about macro-economic issues. But we are flooded with about the supply chain (especially food-related) and testing plan uncertainty, and these topics were near the bottom of the list. It seems that, with a plethora of information, franchisors are feeling less in the dark when it comes to making informed decisions. Also, franchisors don't seem too concerned about impacts on their workforce, which makes sense since most are planning on retaining staff.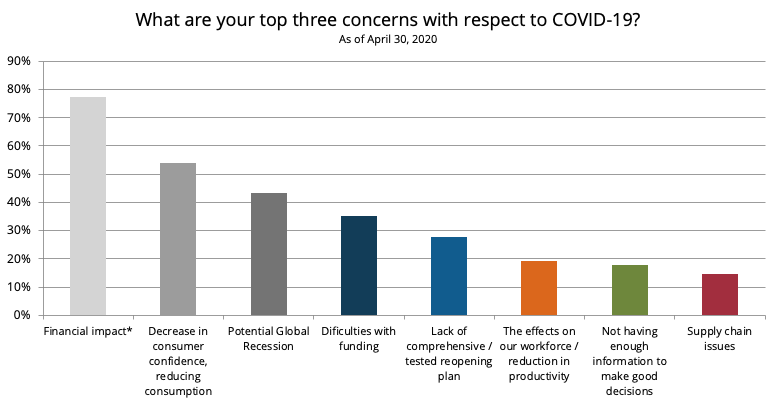 Want to Learn How We Can Help?
We have been working hard to help our customers affected by the fallout of COVID-19. As more businesses are realizing how to operate moving forward, the way that people use our software has shifted as well. As you might guess, people are investing a lot of time to get re-launching / re-opening plans right. But there is also a stronger than ever emphasis on optimizing performance across units. If you'd like to see how FranConnect is helping franchisors survive and thrive in the new normal, just Request a Demo today.