Earlier this month we completed a survey of 200+ franchisors to gauge the current state of the franchise industry relative to the impact of the COVID-19 pandemic. Participants provided insight into a wide variety of critical topics, from franchise development to unit operations to core financials such as cash flow and royalty management. The results of the survey can help franchisors understand how they stand in the face of the pandemic relative to peers across the spectrum and within their industries.
At a high level, the survey analysis shows some positive signs for the franchise industry, but also some instances where the pain will be felt longer than originally expected:
Nearly all franchisors have returned to selling franchises but there is no consensus as to what level of sales they will attain
Systemwide revenue projections are improving, but the hardest hit sectors are feeling the pain more than they originally expected
The number of franchise location closures is down overall, but the percentage of businesses projecting long-term closures has increased
We are packaging up the full data set for a complete download — with industry- and size-specific analysis — but in the meantime, here are some top-line takeaways.
Franchise Development: Moving at a Slower Pace
Only 16 percent of franchisors have paused their sales efforts. So despite the headwinds, the overwhelming majority of franchise businesses have been able to justify continuing their development efforts. Given the rise in new leads from newly unemployed professionals, this is not a surprise, but we are pleased to see such a high rate. (In April, 35 percent of respondents indicated that they had paused their development efforts).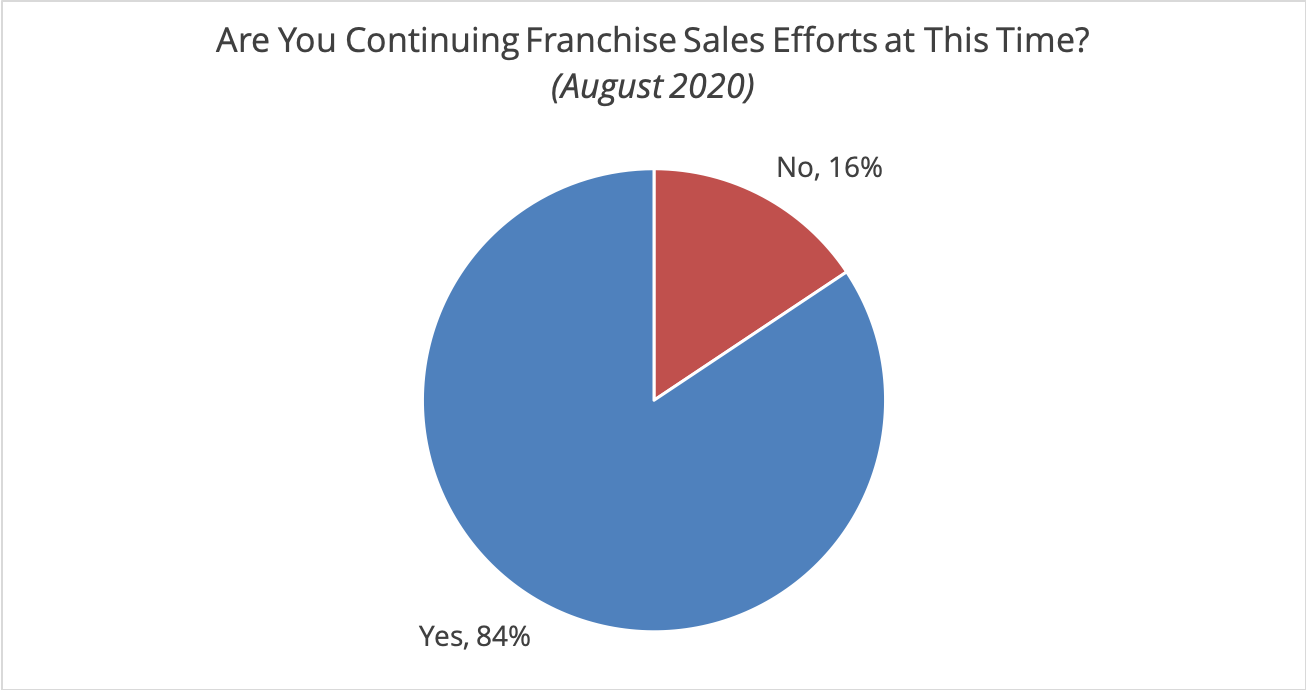 But when asked how they expect to perform relative to their original 2020 plan, we see that 40 percent of respondents expect to achieve less than half of their goal. On the other end of the spectrum, 13 percent are projecting 90-100 percent of goal, with only 6 percent expecting greater achievement than the original goal. From this, we see that there absolutely will be growth across the market, but certainly a much lower rate.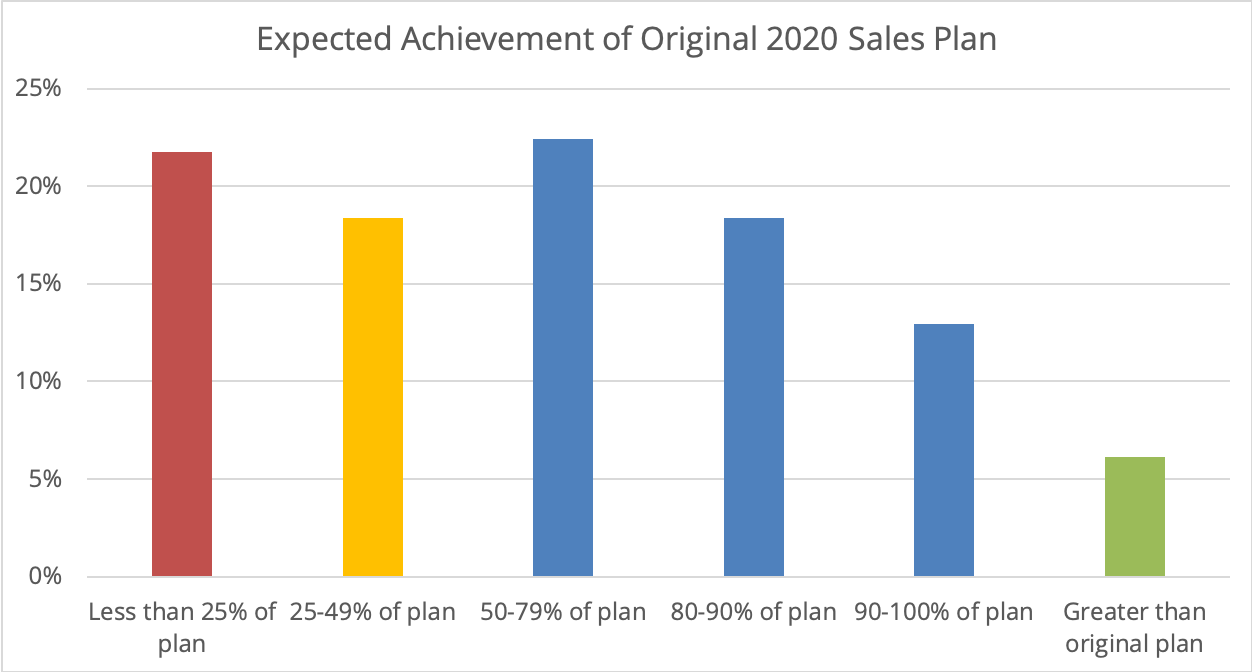 Systemwide Franchise Revenue: More Upside Than Downside
We asked respondents what their overall systemwide franchise revenue expectations were as of August 2020. Fifty percent of respondents are projecting year-over-year revenue growth versus 47 percent projecting a drop. However, the biggest cohort overall is the 22 percent of respondents projecting more than a 25 percent decrease in sales. This compares to the biggest group of positive growth reporters, which is the +1-9 percent cohort. In other words, most of the adversely affected businesses are really feeling the pain, and most of the positively trending businesses are only expecting marginal growth.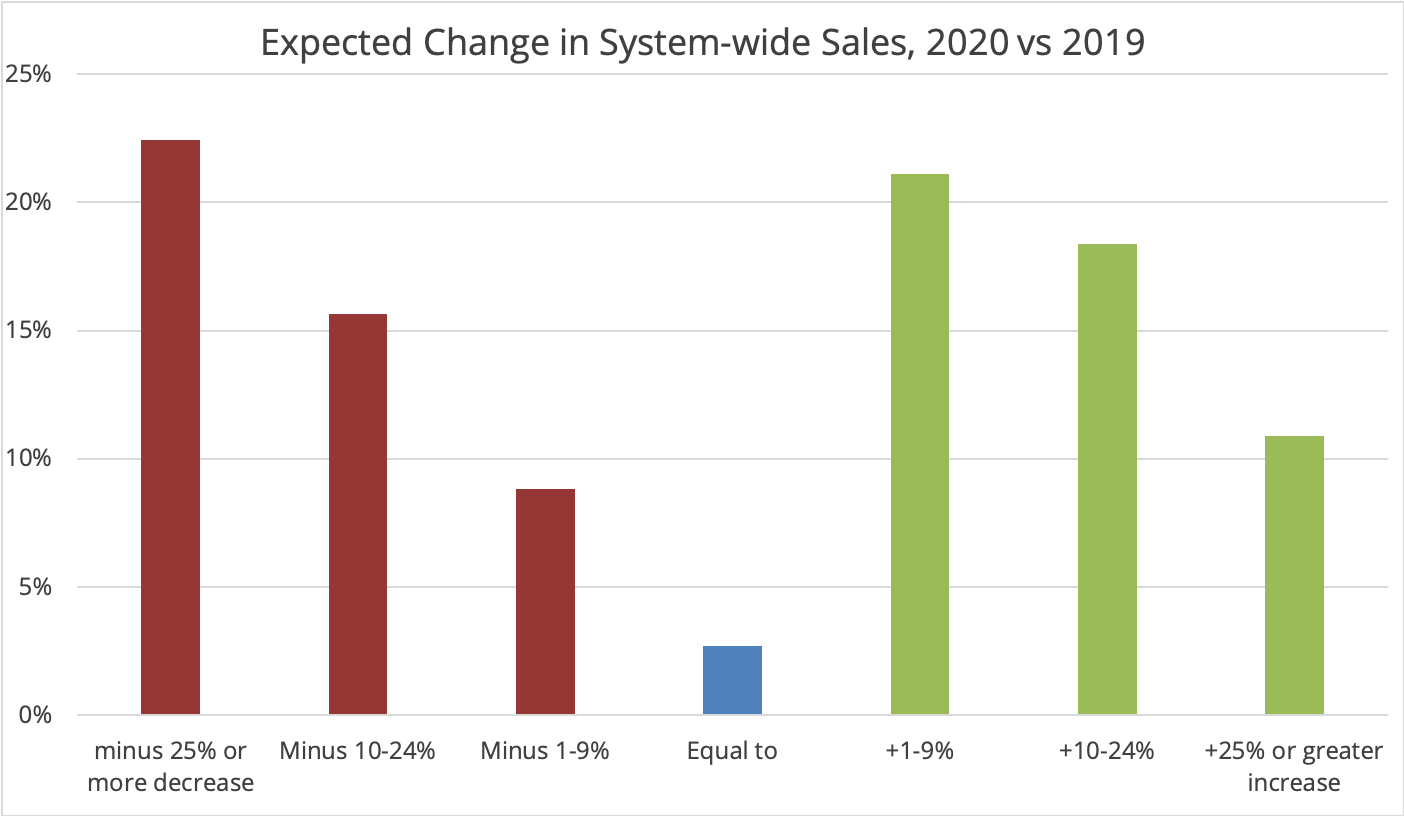 Location Closures: Promising Outlook — With Caution
More than 50 percent of respondents indicated that they have no current location closures. Fewer than 5 percent of businesses are reporting more than half of their locations closed. Back in April, 35 percent of businesses surveyed reported more than half of locations closed. So almost all of the most-severely impacted businesses have returned to some level of operations.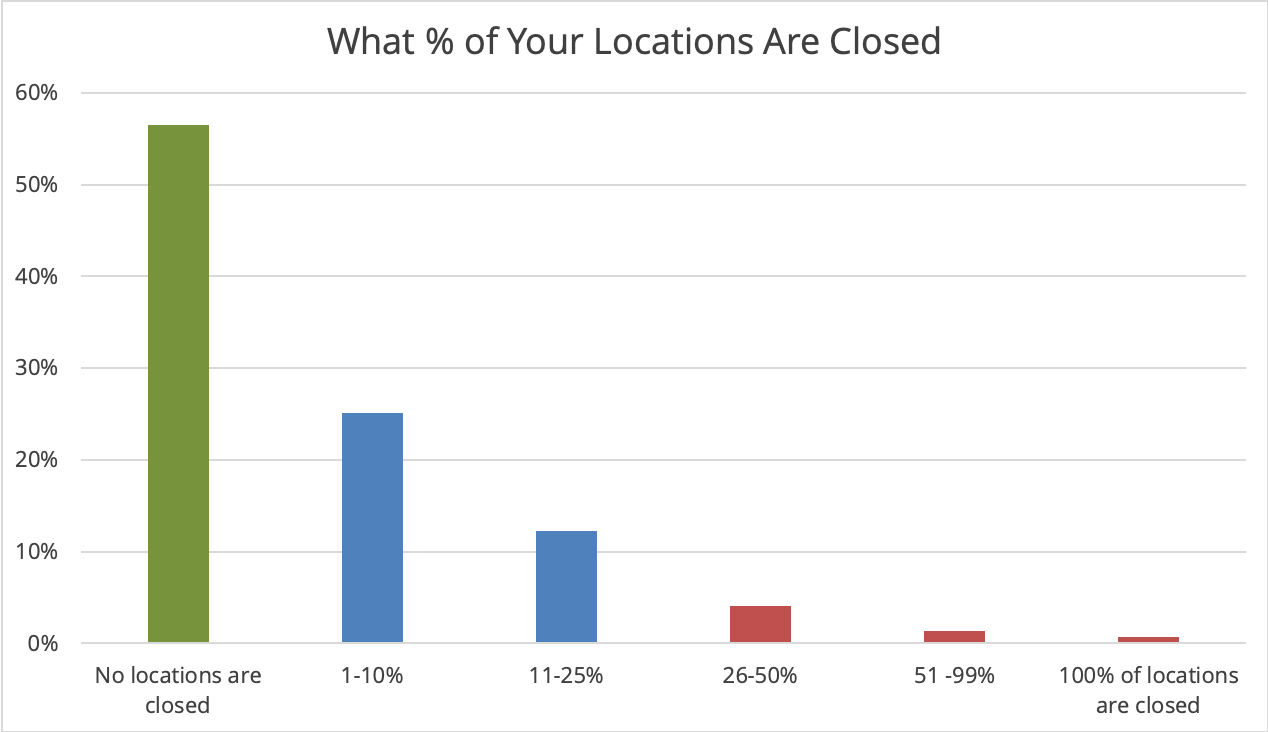 For the businesses that are showing closures, most leaders are projecting the closures to last another 2 months or less. However, the number of businesses expecting their shutdowns to last 6 months or more increased from 3 percent in April to 20 percent in August. This is significant and illustrates that franchise leaders have a better grasp on the "long-haul" nature of the pandemic and its impact on their business.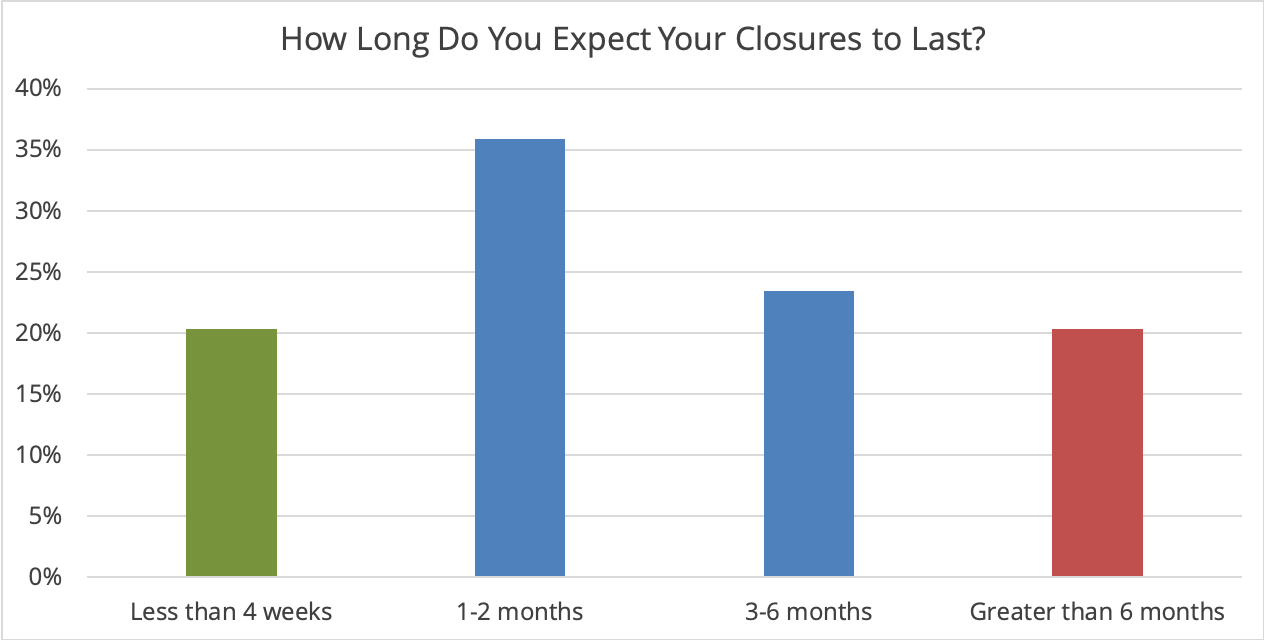 This is just the tip of the iceberg of this data analysis. Join me and Keith Gerson on August 25th for a live webinar on the state of franchising. We'll go into depth on these and other topics from our survey, including royalty deferrals, cashflow, personnel, closings, and more. All registrants will receive a full copy of the findings report.