Pay-per-click (PPC) advertisements offer a reliable way to reach franchisees. As a franchisor, you always seek new strategies to attract franchisees and stand out amongst other businesses. Exploring better franchisor advertising tactics can help you reach the people you need while targeting the right demographics. Discover types of PPC advertisements, the benefits of keywords and best budgeting practices for your franchise.
What Is PPC Advertising?
Pay-per-click advertising is a digital advertising tool used by various companies, businesses, franchises and institutions worldwide. PPC for franchisors requires the business to pay a fee every time someone clicks on their ad, hence the name "pay-per-click." PPC advertisements help franchisors locate and target specific customers and demographics by paying for their website, application or landing page visits. Often, advertisers experience a high return on investment (ROI), as the money spent on PPC ads results in higher sales for the company's product or services.
Franchisor PPC ads contain various text boxes, videos or images. The imagery and aesthetic of the advertisements remain up to the company and you can find PPC ads in multiple shapes and sizes across the internet. You can find PPC ads across many platforms, including search engines like Google and Bing, websites and social media platforms like Facebook, LinkedIn and Instagram.
What Is the Difference Between Ad Campaigns and Ad Groups?
Understanding the difference between ad campaigns and ad groups can help your franchise choose the right PPC advertising to fit your needs.
Ad campaigns have one or several ad groups within them, meaning your franchise will have direct control of the marketing goal and set budget. On the other hand, ad groups contain one or several ads within them while overseeing bids, placement, delivery options and audience targeting.
Both ad campaigns and groups may share relevant keywords and bids to target the right clients or customers.
Search Ads
Search advertisements require companies to pay for usage and placement through a bidding and auction system. They can be found above organic search results or at the bottom of a search engine results page. Many search ads can be found when users search for specific keywords.
A search ad is made up of three parts — the headline, description text and display URL. Some search ads extend to a larger image once the user clicks on it, making it helpful in providing additional information. Search ads will appear more frequently on search engine result pages if you have a high ad quality score and rank highly in the bidding.
Display Ads
Display advertisements push ads toward users and potential franchisees. They are a paid placement, meaning they'll appear more for targeted users and demographics. Display ads can also be placed anywhere online, meaning you will likely find them across social media, as banner ads above online content or in email inboxes as image expansion ads.
Getting Ads in Front of Potential Franchisees
When advertising on Google, Bing, or other search engines, using the right keywords is integral to the performance of your ads. Keywords are any word or phrase likely to grab the attention of or appeal to a franchisee.
Search for relevant keywords and bid on those words and phrases to place your ads in search results. The more you bid on and win relevant keywords, the more likely franchisees will see your advertisement. Finding the most relevant keywords for your business can also save you time and money. You can narrow your focus to those few bids that will improve your business rather than general keywords that might not relate to your product or service.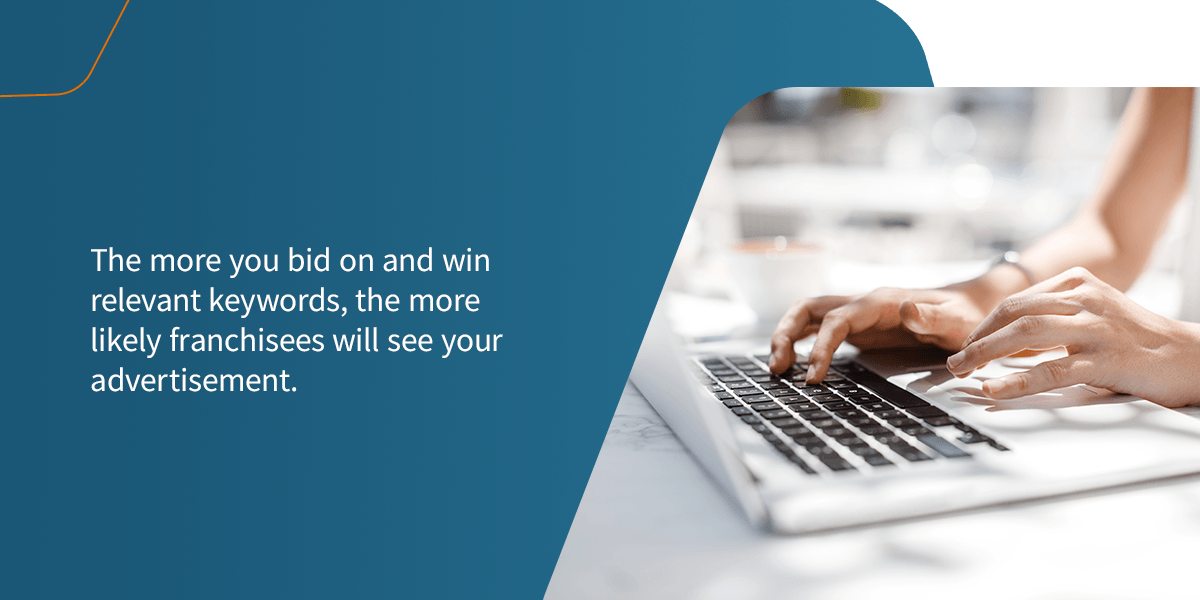 Here are a few keywords franchisors might consider using in their ads to reach the right audience:
Franchise

Franchise opportunities

Best franchises to own

Franchise for sale

Franchise business

Most profitable franchises

Restaurant franchise

Buy a franchise

The franchise

Car franchise
Creating Ads That Appeal to Franchisees
Creating appealing advertisements for franchisees is critical to building a successful marketing strategy. By understanding the aesthetics and brand imagery of the company, you can better plan for the right headline, description and image usage in each PPC ad.
What Is a Headline in PPC Advertisements?
Headlines are the first thing your audience sees when they spot your PPC ad. The headline is a title or first description of your business benefits, special perks or offers. Typically, a headline will contain an eye-catching phrase or word to appeal to franchisees.
Here are a few headline examples that can attract potential franchisees:
Number One Franchise for Franchisees

Best Franchise to Join

Top Franchise for Franchisees

10 Tips for New Franchisers

Where Can You Find the Best Franchise?

How to Join a Franchise
What Is a Description in PPC Advertisements?
PPC advertisement descriptions are the small bits of text underneath the ad's headline. Descriptions contain information about your company's product or service and how it may benefit the franchisee.
What Is an Image in PPC Advertisements?
Many PPC advertisements contain images to appeal to consumers or catch the attention of franchisees. Ensure you find an image that connects well with your product or service and your brand's image. They should be high-quality and clean-cut, as simplistic ads tend to catch the attention of franchisees more than complicated images.
Budgeting for Your Ad Campaign
Setting a budget for your PPC advertising campaign offers many benefits and challenges. However, PPC campaigns are primarily flexible, meaning you can fit PPC ad plans into any budget and make a marketing strategy that fits your needs.
Here are a few PPC budget options you might consider:
Flat fees: A fixed pricing option offers predictable costs and transparent billing.
Hourly rates: Some franchises prefer hourly rates for PPC ads, depending on the time sensitivity of their campaign.
Percentages: Consider budgeting for the cost of specific portions of ad spending.
Performance and quality based: Many franchises budget for PPC advertisements based on their predicted performance or quality rating.
Hybrid options: Consider creating a flexible budget and pricing model based on two or more options.
Your franchise's budget can vary based on the number of people you want to reach and the number of competitors bidding on your desired keywords. This concept is known as cost-per-click. Because of the changing bidding system, the success of your campaign depends on a few factors like audience, competition and ad quality.
When calculating your possible cost for a PPC ad or group of ads, consider dividing the cost to your franchise by the number of potential clicks. You can estimate the cost-per-click expenses.
Improve
Advertising Speed-to-Lead
With Help From FranConnect
As a franchise management software provider, FranConnect works hard to provide the right solutions for franchises that want to increase lead speed. For companies that find a lead through PPC, our software helps funnel information to your team so they can respond in a timely manner. Request a demonstration of our services today or call us at 833-438-7523.