While researching for this blog post, I came across the same basic description for franchise discovery days over and over again – an opportunity for candidates and franchisors to learn more about each other. According to this article in Entrepreneur, discovery days have four main purposes:
The candidate can learn more about you and your franchise
You can further qualify the candidate
The management team can provide feedback on the candidate
You and your brand can make a good impression
While these are important parts of discovery days, I think there is a fifth and arguably more important purpose – closing the deal. Remember that discovery days are another step in the sales cycle, and while they are an excellent tool in franchisee candidate engagement, the ultimate goal is a closed deal. When you think of it that way, discovery days could be structured more effectively to actually close that deal.
Think of a normal job interview. You see a job posting, do some research, have a phone interview – maybe two – and go to an in-person interview. The best interviews I've been on are the ones at which the employer had clear intentions and next steps. By that step in the interview process, we're ready to commit to each other – we just need that final push to seal the deal.
This directly relates to discovery days. It's not a time to just sit back, relax, and hope for the best. It's time to really try to get a commitment. Many brands' discovery days fall toward the middle to end of the franchise sales process:
Pre-qualification (move lead to qualified)
Contacted
Qualification
Call or in-person meeting
Discovery Day/Candidate Approval
Call
Application
While this is just a high-level view of the steps in the sales process, by the time a candidate reaches the discovery day stage, they should be 85% sure they are ready to commit. These candidates are serious about partnering with your company, especially since they are usually absorbing the cost of attending.
So use this stage in the franchise sales process to move the candidate along. In fact, your parting conversation may sound something like this:
"I haven't had a chance to speak to everyone on the team yet,
but I think they were all impressed with you. If the team decides to
award you a franchise, are you ready to move forward?"
Neither side is making a firm commitment, but you're clear in your intentions. (This is starting to sound like an article on dating, isn't it?)
After diving into aggregated and anonymized FranConnect user data, we hypothesize that franchisors take different approaches to discovery days. Micro-emerging, emerging, and mid-level organizations seem to take the typical approach, treating this stage as an opportunity to come to headquarters, meet the team, and learn more about the organization. Enterprise organizations, however, may be taking a more direct approach by treating discovery days as a decision days, creating a very clear expectation for the candidate on what to be thinking about while they are there and what the next steps will be. With this approach, your organization can close the deal a few short days following a discovery day. As you can see in the below figure, enterprise organizations vastly outperform when it comes to the time it takes to close a deal after a discovery day.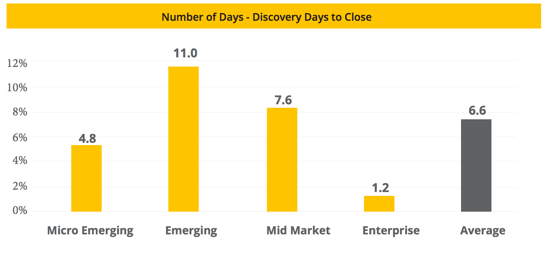 You can even clearly lay out a timeline to candidates so they will act quickly. For example, you may say that the territory will be held for a limited amount of time before it's offered to another candidate.
It's important to shorten the time from discovery day to offer not only because it grows your business faster, but because the impressions and good emotions from the in-person visit are still fresh. Don't give that excitement an opportunity to dwindle.
What is your brand's approach to discovery days?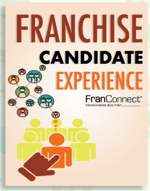 Engaging franchise candidates at every stage of the franchise sales cycle is important. Download and complete this worksheet to build the optimal candidate experience and keep candidates engaged every step of the way.