A dirty database is a like a dirty home. When a home is messy and unorganized, it's hard to find anything. It seems to happen in an instant, too – once one item is put in the wrong place, the mess piles up. Particularly if you have kids or live with roommates, it can be difficult to keep all the dirt from coming in.
Your database is similar. Once one contact is tagged incorrectly, or a list is imported without the necessary information, your database starts getting messy. And with multiple people working in a database – such as your franchise development and marketing teams – it's hard to keep the "dirt" from coming in.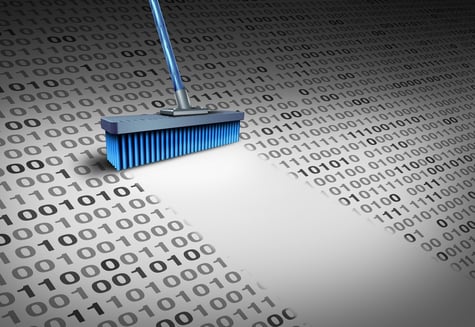 However, there are steps you can take to clean your data and keep it that way. Here are a few suggestions:
Identify a database owner

Every project needs an owner, and cleaning and maintaining a good database is no exception. Identify one person in your organization to define and enforce processes for data import, data standardization, and regularly data clean up. All questions related to data should be directed to this person, and others should refrain from adding to the database without talking to this individual first.
Remove duplicate contacts

A good first step in cleaning up your database is to ensure duplicate contacts are erased. Ideally your franchise CRM helps with this by automating the process for you, but it's never going to be perfect. When someone submits multiple forms using different email addresses, you'll need to manually merge the contacts into one. De-duping your list is important because you don't want to have to look in multiple places to get the full picture of a franchise candidate, or worse, miss information because you don't realize there is more than one contact record for one person.
Suppress inactive contacts

Inactive contacts – or inactive leads – are troublesome to understanding your franchise sales funnel. Having inactive contacts marked as leads for too long inflates your pipeline and decreases your close ratio. If a lead is inactive, remove it from your pipeline. If you maintain a separate database for your franchisees, it's important to suppress any inactive contacts there, too. There are a number of reasons why a lead may be inactive, whether they are in your CRM or in a customer database. For example, the contact may have changed companies and is no longer a customer. Or this person may have transitioned to a new role within the company and no longer needs the information you are sending. Or sometimes during the sales process the person simply may no longer be interested in what you offer. Repeatedly sending information to someone who doesn't want to receive it only hurts your brand. It's important to identify these inactive leads and either tag them as such in your database, or remove them altogether.
Eliminate spam or irrelevant contacts

Similar to inactive contacts, remove any contacts that have fake names, email addresses, or companies. People who simply want access to your information may use fake names and email addresses. Don't let these leads taint your database. Delete them.
Check for uniformity

FranConnect. Fran Connect. FranConnect Inc. Company names, states, cities, job titles, and other contact properties can be written a multitude of ways, making it difficult to segment by a specific field property. For example, if everyone at FranConnect is supposed to receive an update, and you segment by 'Company Name,' you may miss contacts associated with this property if there are three versions of it. When at all possible, use dropdowns on forms instead of an open-ended text option so information is kept uniform. It's also important to manually enforce uniformity when inconsistencies are discovered.
Use contact properties appropriately and correctly

Whether you're in a sales and marketing CRM or in a customer database, create and use appropriate contact properties. Make sure contacts are marked accurately in the sales funnel; be sure you know which franchisees are in the opening process versus bringing in revenue; tag franchisees by location and region so you can make comparisons accordingly. These tags, among others, help you cater your content and messaging so the right contacts are receiving the right information at the right time.
Keeping your CRM and customer database clean takes time and effort, but it's worth it. It not only ensures you can communicate effectively with your audiences, but it enables you to get the most informative insights into your audiences when you need it.
In need of a franchise sales CRM or a customer database for your franchisees? Contact FranConnect to learn more about FranConnect Sky Sales and FranConnect Sky Info Manager.