The Project Management Challenge in Franchising
One of the most popular – and well-used – capabilities of the FranConnect Platform is our Opener module. It is a workflow-based solution that helps bring order to the chaos of the unit opening process, ultimately speeding up time to revenue. Recently, many of our customers have been asking us to help them tackle complex projects beyond just the Opening stage of the franchise lifecycle. So… we've quietly been working on a solution, which we're excited to introduce now!
First and foremost, some background on why this matters. Anyone who has ever tackled complex franchise lifecycle events or corporate initiatives knows how hard it is to do so in an organized, consistent, and well-coordinated way. Having visibility into every step of the process across multiple stakeholders is paramount. But also, effective communication is critical, so that everyone involved knows their responsibilities and the impact of their contributions.
Introducing FranConnect

Projects
FranConnect Projects is the newest component of our Operate module, available to customers now! Embedded inside your system of record and built specifically for franchising, Projects provides corporate users and franchisees transparency and consistency for every step of the project timeline.
Deliver a project in an organized, consistent, and well-coordinated way within your franchise system by allowing unit-level individuals to collaborate with various departments, while additionally supporting them during their events. Whether the point of convergence is a company-wide initiative (rebranding or product launch) and/or a need to manage a new process deployment (POS system), Projects allow you to improve stakeholder collaboration while sharing best practices and critical knowledge.
Popular Use Cases for FranConnect Projects:
New Process Deployment (POS system)

Unit Remodels

Mass Certification Initiatives

New Product Launch or Rebrand
How Do
Projects Help
?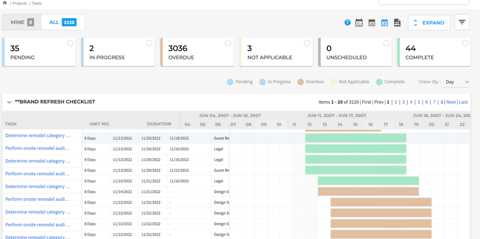 FranConnect Projects streamlines and automates critical tasks such as compliance and regulatory requirements by managing all coordination tasks within your system of record. Checklist templates also offer transparency and consistency to everyone on your team. You will know what to do and when to do it. Allowing you to navigate with transparency, avoid delays, and quickly resolve issues.
Unlike Excel or point solutions, FranConnect Projects are contained with your system of record ensuring that all stakeholders have immediate access to each unit's information (contracts, contacts, historical compliance, and performance, etc.). Projects also come with customizable reporting tools and automated insights which allow you to take corrective action before you get off track, or miss important milestones. Proactively identify dependencies and milestones and track every step with notifications and status reporting – so you never miss a deadline.
Projects: Key Features
Project Templates

: consistent project execution with a predefine

d

set of tasks

that are done

by different teams

(franchisee, construction, operations, legal, etc.) to accomplish a shared goal

Embedded within your

system of record

and built exclusively for franchising easily leverage key dates/fields from FranConnect

Easily shift your entire project:

Instead of trying to push out each of your tasks and figure out how they impact your project timeline, FranConnect Projects allows you to adjust the target event date

Improve franchisee engagement by navigating with transparency

Gantt Chart View

– Visualizes project schedule and milestones progress. Plenty of

standard reports

and visualizations are also included out-of-the-box for ease of communication

Stay Connected, use the

FranConnect Mobile App

to keep your project process moving – anytime, anywhere
For more information on Projects or to schedule a demo of FranConnect Operate
visit us here: