Since 2010, I have attended IFA's annual conference, and for me, IFA 2017 really stood out as the convention had a whole new look. The focus on integrating the physical event with digital was impressive as well, with the active Twitter feed and the use of live polling tools during keynote presentations.
Over the course of four days, I had the opportunity to speak with our customers, renew friendships, and spark new relationships, as we exchanged ideas to address franchising's biggest challenges and together, find the answers.
Without question, technology continues to be a priority for franchise leaders, as the past several years have been marked by transformative changes in how people interact with technology and how businesses develop. Based on our interactions at FranConnect's booth, the franchise community is embracing the importance of tools such as integrated financial controls (see our FranConnect + QuickBooks announcement) and business intelligence in a way that I have not seen before (I've been at this a long time). Learn more about FranConnect's new integration with Quickbooks Online and the release of FranConnect Sky Insights, a franchise-specific business intelligence tool.
Here are the key technology trends that I saw at IFA 2017 that are being used to optimize franchise operations:


Unifying Data
The need to unify and view information across an entire franchise system is our industry's biggest technology trend. Historically, franchise brands typically start by procuring a system for different purposes, and each system has its own sign in and method to update, creating silos of information that cannot be correlated easily. When a field consultant conducts site visits and scores each visit, how do positive or negative scores relate to a franchisee's financial performance? How can we connect the dots to uncover trends? How can we implement the necessary operational corrections to improve business outcomes?
This is when franchise leaders realize they cannot intelligently share and analyze data. Some turn to complex business intelligence software only to find they need a data scientist to simply create a report.
What is needed is a user friendly (meaning a CEO could do it!) tool that populates role-based information in real-time. Hello, FranConnect Insights! (Shameless plug.)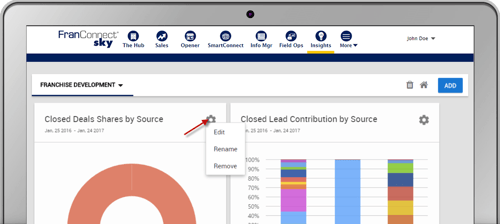 Integration with Best of Breed
"I need this tool to work with my other tools to run my business." We've all been there. We need a better way to work and communicate, and to get there, we need to integrate systems with the best of breed. For example, many franchisors and franchisees rely on QuickBooks, Gmail, and DocuSign, and these commonly used applications can be integrated with franchise management software solutions. We anticipated this need and were pleased to see that we hit the mark at IFA with the launch of these new integrations.


Collaboration for Improved Unit Economics
Historically, corporate would send a representative for field visits, and franchisees would be scored and informed how they were noncompliant. Since then, how we do business has changed. Instead of being the enforcer, franchisors are setting a new tone of collaboration with their franchisees to create mutual success by taking the role of a business mentor, creating the mentality that both parties are interested in succeeding and supporting each other. The most successful franchisors are making business decisions based on data-driven insights and using technology solutions to share performance data with their franchisees. This allows complete transparency so that franchisees can benchmark their performance and see what areas need improvement, thereby improving overall unit economics.


Tailoring Technology to How We Work
With the rise of mobile and social, franchise brands are using technology in new ways as roles become more and more on the go. For example, a franchise owner of a quick service restaurant may primarily work from a laptop; however, when it comes to delivering training modules, mobile applications are more effective. Bottom line, information needs to be delivered based on how we work, and in order to get there, solutions need to be mobile.
The evolution of technology and the accessibility to smart information mean that leading franchise brands are better able to support franchisees and improve engagement, performance, and growth. And as a franchise community, we can do that together, as we rethink how we use technology and adapt to gain data-driven, actionable business insights.
To learn more about the latest enhancements to FranConnect, from mobile to data insights to cool integrations, contact us today.