When it comes to running a successful business, many factors come into play. From creating a solid brand identity to developing effective marketing strategies, business owners have a lot on their plate. However, one key aspect of success that is often overlooked is the importance of adequately training frontline employees.
Frontline employees are the face of your business. They represent your brand to customers daily. Even the most dedicated employees need proper training to meet their job expectations. That's why business owners need to invest in employee training.
By providing employees with the tools and knowledge they need to excel in their roles, businesses can create a positive work environment, improve customer service and ultimately drive success.
Let's discuss all there is to know about frontline employees, why frontline employee training is crucial and how to train your employees properly in this day and age.
Who Qualifies as a Frontline Employee
Frontline employees work directly with customers or clients in a business or organization. Frontline employees are often customers' first point of contact and are critical to a business's success. They are the ones who interact with customers daily, and their ability to provide quality service can have a significant impact on a customer's overall experience.
They are seen as the face of the company and are responsible for providing customer service, answering questions and handling customer complaints. So, who qualifies as a frontline employee? Frontline employees can be found in various fields. Here are common industries that employ frontline employees:
Customer service: This includes call center representatives who answer customer phone calls.
Emergency services: First responders — such as police officers, paramedics and firefighters — are all frontline employees.
Finance: Bank tellers, for example, interact with customers face-to-face.
Health care: Frontline workers in health care include doctors, nurses and other medical professionals who work in hospitals or clinics.
Hospitality: Some examples include front desk staff, housekeepers and other employees who work in hotels.
Food services: Some examples include servers, hosts and kitchen staff who work in restaurants.
Retail: This includes cashiers, sales associates and customer service representatives who work in stores.
Transportation: This industry includes bus drivers, flight attendants and taxi drivers.
Utility: Plumbers, electricians and maintenance workers are also considered frontline employees.
While frontline employees work in various industries and have different job duties, some shared characteristics exist among them. These include the following:
Strong sense of customer service: Frontline employees must communicate effectively with customers and handle customer complaints or issues professionally and courteously.
Work well under pressure: Frontline employees often have to deal with high volumes of customers or clients and may need to manage multiple tasks or requests simultaneously.
Knowledge of company products and services: Frontline employees must also understand the company's products or services to answer customer questions accurately.
Compensation for frontline employees can vary depending on the industry, specific job duties and location. According to the Bureau of Labor Statistics (BLS), the median hourly wage for retail sales workers was $14.30 in 2021, while the median hourly wage for food and beverage serving was $12.49. However, some frontline employees earn above-average salaries. For example, health care workers like practitioners, registered nurses and dental hygienists have a median annual wage of $75,040 in 2021.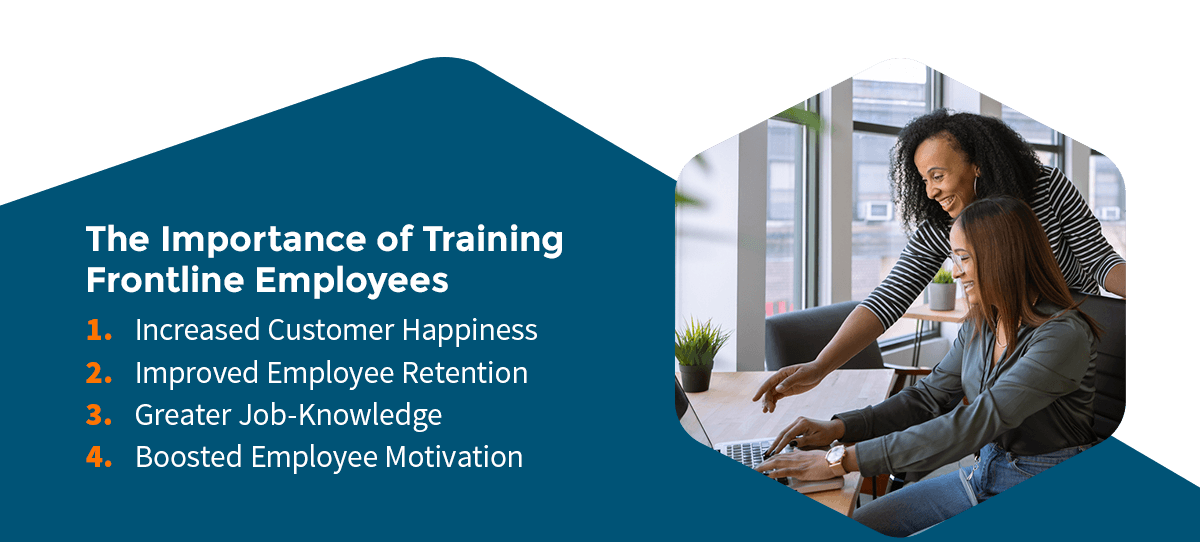 The Importance of Training Frontline Employees
Frontline employee training is a wise investment for any business and is essential for various reasons. Here are a few key reasons why employee training is needed:
1. Increased Customer Happiness
One reason you should train your frontline employees is that it can increase customer satisfaction. When frontline employees receive proper training, they are better equipped to provide top-notch customer service. They better understand their company's products or services and know how to handle customer complaints or issues effectively. This leads to happier customers who are more likely to return to the business and recommend it to others.
2. Improved Employee Retention
Investing in employee training shows frontline employees that their employer values them and wants them to succeed. This can lead to higher employee morale and a greater sense of job satisfaction, which can improve employee retention rates. Employees who feel supported and empowered are more likely to stay with the company long-term.
3. Greater Job-Knowledge
Training provides frontline employees with the knowledge and skills they need to excel in their roles. This can include learning about new products or services, improving communication skills or developing essential problem-solving skills. As employees develop new skills, they become more confident in their abilities and can take on more responsibilities, leading to growth opportunities within the company.
4. Boosted Employee Motivation
Proper training can also boost employee motivation and engagement. When employees feel confident in their abilities and have the skills they need to perform their jobs effectively, they are more likely to take pride in their work and feel motivated to do their best. This can lead to improved job performance and overall productivity.
How to Train an Employee
To train employees, you need to use digital tools as frontline training solutions. By investing in a learning management system (LMS), businesses can help ensure their employees have the skills and knowledge they need to succeed. Here are some things to consider when choosing a training solution for your frontline employees:
Digital Is the Key
Digital tools are a popular and effective way to train frontline employees. Businesses can use online training software to create training programs that are accessible from anywhere with an internet connection. This allows employees to complete training on their own time, which can be especially helpful for those with busy schedules or who work irregular hours. Additionally, digital training allows businesses to track employee progress and ensure everyone completes the necessary training.
Mobile-Friendly Interface Is a Must
Today, many employees rely on their smartphones or tablets to access information and complete tasks. That's why it's important to ensure that employee training is accessible on mobile devices. A mobile-friendly interface can make training more convenient for employees who are always on the go. This means that employees can complete training modules during their commutes, on their lunch break or whenever they have a spare moment. By making training mobile-friendly, businesses can ensure that employees have access to the information they need, whenever and wherever they need it.
Provide a Variety of Content for All
When it comes to employee training, it's essential to use various content types. This can include text, videos, slideshows and interactive elements like quizzes or simulations. This variety helps keep employees engaged and interested in the training, which can lead to better retention. Additionally, using different types of content can help accommodate different learning styles. For example, some employees prefer to read text-based content, while others find videos or interactive elements more helpful.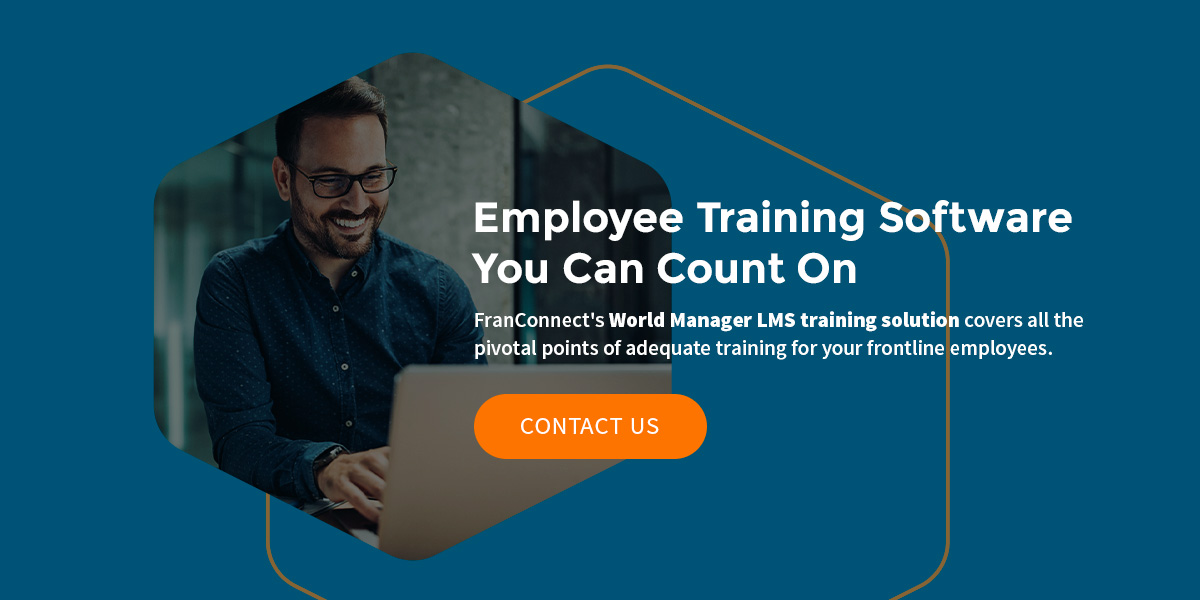 Employee Training Software You Can Count On
A thriving business requires well-trained employees. An LMS may assist you in teaching your employees in an enjoyable and engaging way, whether you're onboarding new employees or training freshly promoted personnel.
FranConnect's World Manager LMS training solution covers all the pivotal points of adequate training for your frontline employees. Contact us at 844-336-1017 to start streamlining your business today.