The latest version of FranConnect's SaaS franchise management software, FranConnect Sky: Polaris, will be released April 17. With over 100 new features, let's take a look at five of the most exciting additions: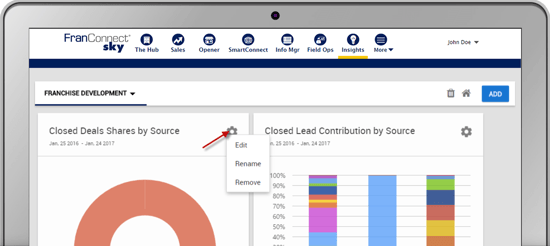 Insights – FranConnect Sky Insights, the latest product in the FranConnect Sky suite, is a business intelligence tool built specifically for franchising, allowing franchisors to make better business decisions with real-time information. With Insights, you can correlate data across your entire franchise system, including finance, marketing, operations, and field consultancy, helping to improve unit economics and franchisee engagement. The best thing about it? Simply turn it on and start using it on day one with no lengthy setup process. To request a demo, click here.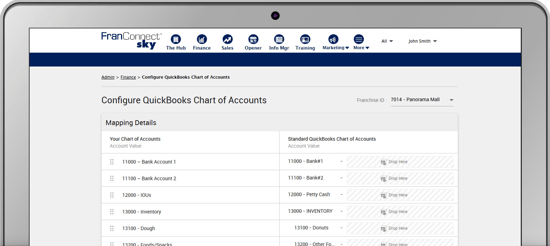 QuickBooks Online – FranConnect Sky Finance now integrates with QuickBooks Online for the most comprehensive franchise accounting software in the market. With this integration, franchise leaders will eliminate manual entry of franchisee data and multiple spreadsheets by automating the collection of revenue and P&L data from QuickBooks Online. Click here to learn more.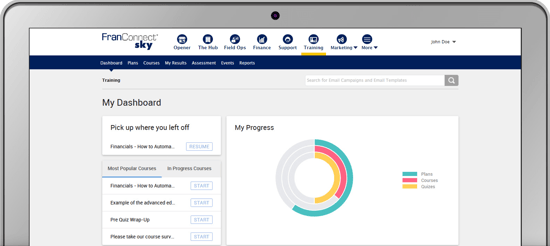 FranConnect Sky Training – The user interface of FranConnect Sky Training has been completely reimagined, making it easier to navigate for franchisors and franchisees. You can create training plans – complete with courses, lessons, quizzes, and certificates – that guide employees through a curriculum and accelerate education. Beautiful, easy-to-read dashboards provide an overview of individual and team performance.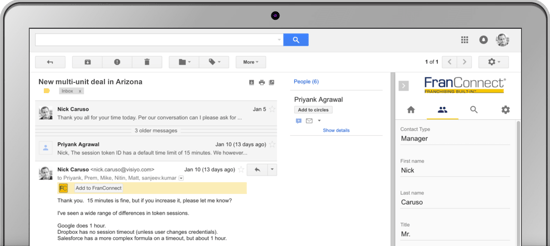 FranConnect For Gmail – With a newly added Google Chrome extension for Gmail, customers with FranConnect Sky Sales, CRM, or Info Manager can create contacts and edit contact information directly from their Gmail accounts, as well as save all outbound email communications directly to the system. This ensures all employees keep your system of record current without leaving the Gmail platform. Welcome to FranConnect Where You Work!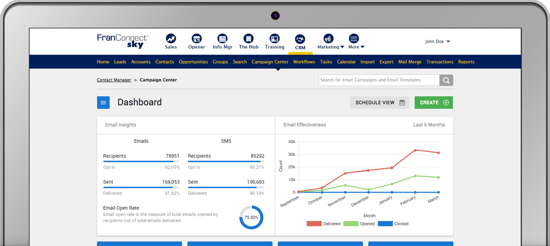 SMS Campaigns – SMS campaigns automate the delivery of text messages, a great supplement to your email campaigns. This new feature will improve engagement through FranConnect Sky CRM or Sales with targeting texting drip campaigns. With the power of FranConnect Sky's Workflows feature, messaging can be automated thanks to event-based triggers. This is the latest technology being used in sales and marketing, and it's sure to improve unit economics and overall growth.
Along with these features, other upgrades include:
The ability to send multiple FDDs to leads interested in opening new units across multiple brands (FranConnect Sky Sales)
Enhanced marketing dashboard
Touch ID login (FranConnect Sky Mobile Apps)
And much more!
Current FranConnect Sky customers will automatically upgrade from April 17-24. Customers will receive a notification in their FranConnect system one week prior to the date of their system upgrade. Once up and running on FranConnect Sky: Polaris, you will find more information about the features and capabilities after logging in for the first time, including a video overview and help articles.
Stay tuned for an announcement for training sessions on new features.
Not a FranConnect sky user and want to learn more? Contact your representative or click here to request more information.
For all other questions, please contact FranConnect support by emailing helpdesk@franconnect.com or calling 1-800-280-8305.