RESTON, VA. (PRWEB) NOVEMBER 11, 2019
The Franchise Book of Mentors, the new book from Keith Gerson, FranConnect's President of Franchise Operations and CMO,, is a collection of insights from 23 of North America's leading franchise performers, world-renowned authors and people who have overcome insurmountable struggles to achieve their life goals.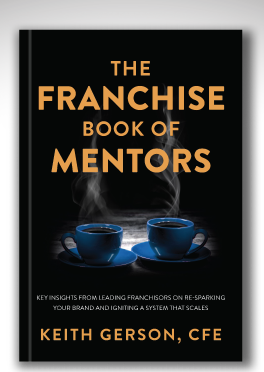 The book is now available online for the suggested price of a $25 donation toward the nonprofit organization VetFran, a strategic initiative of the International Franchise Association and the Franchise Education and Research Foundation that helps connect talented and patriotic veterans with franchise business ownership opportunities.
"100% of the proceeds from the sale of the book will go toward helping support and give thanks to our nation's biggest heroes," said Gerson. "Veterans leave the armed services with invaluable skills that are uniquely matched to franchising and it is our civic duty to connect those talented and patriotic citizens with franchise opportunities. The proceeds of this book will also help provide veterans with counseling and other types of support when they return home from duty."
"Rarely does one have the opportunity to learn from franchise leaders while also supporting veterans in franchising," said Robert Cresanti, CFE and IFA President and CEO. "IFA is honored that FranConnect is having the proceeds of the Franchise Book of Mentors going to IFA's VetFran Program. The experts and entrepreneurs in this book have valuable insights gained from their successful careers, and I hope that prospective and new franchisees take advantage of this chance to learn for a good cause."
The concept behind The Franchise Book of Mentors is to assemble a select group of proven franchise experts and high performers in the fields and have them share some of their recipes for success in 23 chapters. Designed to be a resource for both seasoned professionals as well as those who are just breaking into the franchising industry, the book provides answers to unique questions from those with a lifetime of expertise in franchising.
The Franchise Book of Mentors features in-depth interviews with leading franchise performers, including the founder of Sports Clips, Gordon Logan; the President of The UPS Store, Tim Davis; the CEO of Firehouse Subs, Don Fox; the COO of Neighborly Brands, Mary Kennedy Thompson and more.
"It's an honor to share my insights and experiences, and I hope they are useful to future entrepreneurs, and especially military veterans, as they pursue a career in franchising," said Tim Davis, President of The UPS Store, Inc. "I was thrilled to find out that all proceeds from The Franchise Book of Mentors will go directly to VetFran. The organization does important work for our nation's heroes, teaching veterans how to channel the valuable skills gained through military service to business ownership."
To donate what you can and immediately download The Franchise Book of Mentors, visit this site: http://www.franchisebookofmentors.com.
To learn more about VetFran, visit: https://www.vetfran.org
ABOUT FRANCONNECT
FranConnect is the leading franchise management software provider. Delivering the widest range of solutions, its award-winning fully integrated platform engages franchisors and franchisees to grow, scale, and optimize their business through a connected and complete franchise system view of the business from sales to multi-unit performance.
More than 140,000 franchisees and 700 plus brands, including 40 of the Top 100 Global Franchises, count on FranConnect to successfully grow their franchise systems. FranConnect customers span all sizes, growth phases, and industries and have grown 44% faster than the broader franchising market. FranConnect is headquartered in Herndon, Virginia, with global follow-the-sun operations.