As the industry's leading provider of franchise management solutions built exclusively for franchisors, with the exciting launch of FranConnect Sky, we are enabling franchisors to successfully grow more units and make all units successful. With this new franchise management software, franchisors – and their franchisees – can now more effectively manage, track and run their franchise systems. Only FranConnect Sky comes with Franchising Built-InTM, offering best practices for the entire franchise lifecycle.
For our customers, this new platform represents FranConnect's migration from a hosted on premise web application to a true software-as-a-service (SaaS) offering, which means that we are able to continuously innovate and rapidly deploy updates to all customers. And in turn, our customers can realize immediate benefits for unit growth, engagement and performance visibility, and unlike customized, generic CRM systems and homegrown solutions, FranConnect Sky can be quickly configured, putting an end to lengthy and costly implementation projects.
With FranConnect Sky, our customers can realize the following five key benefits to make all units successful:
Performance Visibility: FranConnect Sky includes a breadth of functionality that provides complete visibility across the franchising lifecycle. Franchisors can manage unit performance against objectives and create dashboards to view franchisee communication history in one place such as franchisee quality performance, royalty calculations and unit renewals.
New Franchise Development: FranConnect Sky includes complete franchise-specific CRM functionality. Franchisors can improve lead-to-close conversion rates as they generate more leads, reduce cost per lead and ensure compliance with FDD Electronic Disclosure.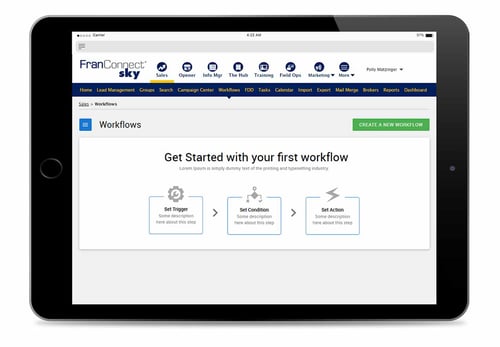 Opening New Units: FranConnect Sky includes functionality to reduce days to first dollar when opening and onboarding new franchisees and units. Area reps, new owners and headquarters personnel can proactively manage projects, quickly resolve issues and keep the process moving forward, while sharing best practices and critical knowledge.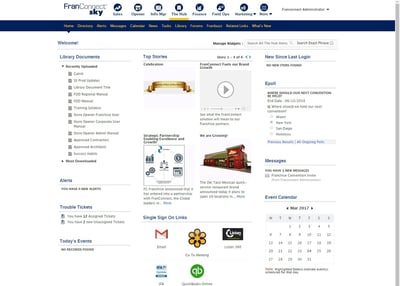 In addition, because we know franchisors and franchisees need 24/7 immediate, real-time access to business insights, we are focused on making the entire product mobile-ready. FranConnect Sky will present a beautiful user experience regardless of whether you are accessing the system on a phone, tablet, or laptop computer.
If you are attending the IFA Convention, we invite you to visit us at Booth #439 and see firsthand how FranConnect Sky can transform your business. We are very excited to show you the future of franchising technology.