This is a big year for Nothing Bundt Cakes. It marks their 10-year anniversary of franchising, and they recently opened their 200th location in Grand Rapids, Michigan. As a proud partner, FranConnect is featuring Nothing Bundt Cakes to congratulate them on their successes.
Nothing Bundt Cakes was founded by Dena Tripp and Debra Shwetz when they opened their first location in Las Vegas in 1997. Ten years later, the duo decided to adopt the franchise model. Now, ten years after franchising, they have over 200 locations in 32 states, and "each bakery still has the warmth and nostalgia of its home-kitchen roots." In 2016, Nothing Bundt Cakes was acquired by the private equity firm Levine Leichtman Capital Partners. This year, they plan to open at least 40 new bakeries as part of their aggressive growth strategy.

Nothing Bundt Cakes became a customer of FranConnect in 2010 (before FranConnect acquired Process Peak), and they have been a power user of the software to facilitate their franchise sales process. At the time Nothing Bundt Cakes began to work with us, they had 21 franchise locations – it's been incredible to see their growth to over 200 today!
"Nothing Bundt Cakes has seen tremendous growth and success over the past several years," said Jamie Shelton, Director of Customer Advocacy, FranConnect. "Bundt cakes are now a staple at baby showers, birthday parties, and other events. They really made the bundt cake cool again with their awesome flavors, consistency, beauty, and availability. I also have to give them a shout out for adapting to the cupcake craze by creating the popular bite-sized bundtini!"
Franchise development is one area in which Nothing Bundt Cakes truly stands out. The process is a balanced evaluation on both sides – the candidates evaluate the brand as much as the brand evaluates the candidates. Plus, having a clear, easy-to-navigate franchise development site has been critical to their success.
A key learning from Nothing Bundt Cakes' success is their implementation and use of technology throughout the franchise sales process. The institution of this technology has helped to support growth in terms of the brand's sales funnel.
"We worked with Nothing Bundt Cakes in blueprinting their franchise sales process from the beginning," Shelton said. "By consulting and training their team on the awarding process and instilling the idea of the psychology behind that process, they set a solid foundation in bringing on franchisees, who have become key validators for the brand."
Nothing Bundt Cakes, we are incredibly proud of how far you have come, and we are excited to continue working with you during your milestone year. We never get tired of drooling over your Twitter feed – keep the photos and gifs coming!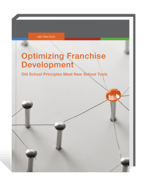 Learn more about best practices for franchise development in Optimizing Franchise Development: Old School Principles Meet New School Tools.