FranConnect, the leading provider of franchise management software, is excited to announce a new partnership with Intuit, a leader in software for small business, personal finance, and tax. The partnership brings together two powerful franchise accounting software tools to create a comprehensive financial management platform for franchise leaders.
Today, it is incredibly difficult for franchise leaders to obtain a comprehensive and accurate financial picture – including sales KPIs, P&L statements, and operations metrics – of an entire franchise system. Compiling useful information often takes days or weeks. With FranConnect Sky Finance plus QuickBooks, franchise leaders will eliminate manual entry of franchisee data, multiple spreadsheets, and mystery.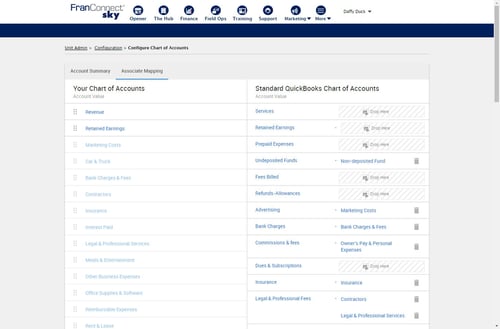 With FranConnect Sky Finance + QuickBooks, franchise brands will:
Save time by automating the collection of P&L and royalty data for all franchisees by creating a brand standard chart of accounts
Manage franchisee performance proactively by regularly pulling sales and P&L data from franchisee systems
Gain unprecedented knowledge of the entire franchise system through the consolidation of financial reporting
Make quick decisions by correlating data across business functions – finance, marketing, sales, operations
Customers who take advantage of this integration will benefit from creating a brand standard chart of accounts that will allow a true apples-to-apples comparison of all P&L-derived metrics across their entire franchise system. For unit owners, requests to provide financial data can be accomplished quickly and easily. Once financial information is submitted, FranConnect Sky automatically calculates royalties and makes the associated journal entries in both the brand's and franchisee's QuickBooks Online system, further simplifying the entire process.
There will be a soft launch of the integration in mid-April to FranConnect customers. An announcement will be made once the integration is made available to all.
Click here for a webinar and demo on improving financial reporting with FranConnect Sky Finance and QuickBooks Online.