Before launching FranConnect Sky in early 2016, we spent time with our customers listening to their challenges, uncovering their wish list for franchise software solutions, and how we could elevate FranConnect to be a valued partner and trusted resource as they grow their brands.
A summary of the top challenges we heard from across industries – quick service restaurants (QSR), senior care, lodging, personal services, and commercial services – included:
"The big one is trying to crack that nut of franchisee engagement."
"There's no big picture view into the entire process – from leads through maintenance, to the relationships."
"The challenge is you don't know what underlying issues there may be and you can't fix what you don't know is broken."
"We need a platform that can scale with us and quickly."
These sessions resulted in a recommended list of initiatives that were evaluated and most of which we have acted upon and are actively executing. The strongest recommendation from the customer group was for FranConnect to simplify our message, streamline our products into a unified approach, and communicate the value of FranConnect to customers aligned with how franchisors manage their businesses.
So we created The Franchise Lifecycle.
Through the exercise described above, we were reminded of the simple fact that every franchise company has to manage and optimize key functional areas to be successful: development, operations, franchisee engagement, and marketing. And during and across each stage, you need to drive and measure performance.
To break it down and align with how your manage your business, our team at FranConnect created a diagram to illustrate the stages of a franchise lifecycle.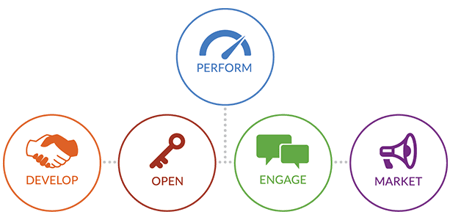 Develop: The goal of every franchise is to grow by awarding more units to qualified candidates.
Open: Once new units are awarded, the franchisor needs to work with the franchisee to open efficiently and effectively.
Engage: Once open, franchisors support and mentor franchisees for success.
Market: Once open, franchisors and franchisees work together to market the brand and individual units.
Perform: During every stage of the process, all parties need insight and access to information such as royalty tracking, sales performance, franchisee profitability, operations and performance data to identify areas of risk and address them quickly.
At any given moment, some part of your organization is in the develop, open, engage, or market stage; and of course, you never stop functioning in "perform," as it spans across all stages.
Franchising is a complicated beast. But when you can correlate departments to certain stages of the business – or aspects of each department to stages of the business – it becomes more digestible for all involved. Individuals have a better understanding of what they are doing and why. It's also hugely important for your franchisees, as many of them are encountering this business model for the first time.
After creating this lifecycle diagram, it became clear that each of the FranConnect Sky software modules supports these stages of the franchise lifecycle.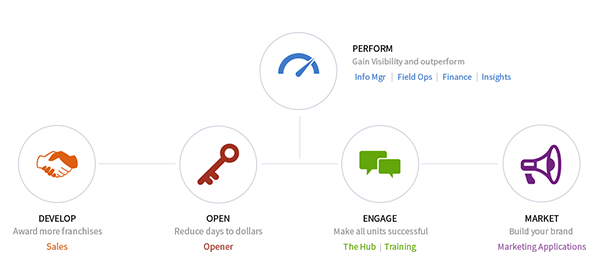 Develop: FranConnect Sky Sales supports your development team in awarding units, complete with a franchise-specific CRM.
Open: FranConnect Sky Opener enables project managers to work with all aspects of the organization to open new units.
Engage: FranConnect Sky The Hub and FranConnect Sky Training enable franchisors to enhance franchisee engagement with a central communication hub and a robust franchise training portal.
Market: FranConnect Sky Marketing Applications address all facets of your brand-sponsored programs including a federated CRM with integrated email campaign automation, directory listings, reputation management, and includes local digital marketing support for each franchisee.
Perform: FranConnect Sky Info Manager, FranConnect Sky Field Ops, FranConnect Sky Finance, and FranConnect Sky Insights span across all stages of the franchise lifecycle to track and measure performance such as royalty tracking, KPI reporting, sales performance, holistic operations views, and complete compliance and document management.
It's important to think about FranConnect Sky in terms of the franchise lifecycle, as it will give you a good starting point in understanding the purpose of each module. After all, it was inspired by our customers!
Ask yourself where the largest hurdles are for your brand – is it with sales? Royalty tracking and reporting? Field visits? Determine the top three areas of your franchise that present the most challenges, and let's discover how FranConnect's franchise management software can help you succeed in those areas. Our franchise software has Franchising Built-In™. Give us a call – we're here to help.