Few franchise brands have put the necessary best practices in place to account for the solutions that allow timely reinforcement of expectations and standards. In our latest ebook, 5 Field Operations Secrets from 600 Franchise Brands, we reveal the guidelines you need to apply to rejuvenate your field operations team and tactics. Here's a sneak peek of those five areas.
Focus on your top 3 to 5 business priorities. As we have seen time and again, a successful strategy starts at the top, which means you must know your brand's priorities, articulate them to your field consultants, and align field operations metrics to each priority.


Clearly and strategically identify what is and isn't working by evaluating each and every activity that a field consultant does and why. Each assessment question needs to provide value for the brand and franchisee. As time shows, questions and review items that do not provide value will result in disjointed manual processes that lack consistency and clear accountability.


Know what the field team needs to do and not do – the goal of the team is to be a consistent presence to reduce inconsistencies and improve overall performance. Keep your brand's priorities at the center of your evaluation, and involve your top field consultants in the process of analyzing through assessment design, action planning, evaluation, and follow up.


Continuously test, adjust, and fix how your field organization is working. To be successful, you must regularly evaluate your processes, including making on-the-spot corrections and gaining important business insights with real time data.



Have consistent, meaningful conversations with your field consultants and individual owners, emphasizing brand alignment to support corporate objectives and brand culture.
No matter if your franchise is a mature or emerging brand, all successful franchise brands use these five basic principles of effective field operations. Only then can your franchise brand realize sustainable growth for unit share, improved unit economics, and meaningful engagement for operational excellence.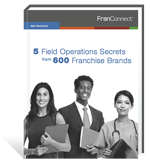 Download FranConnect's free ebook, 5 Field Operations Secrets from 600 Franchise Brands, to compare your field operations practices with the most successful brands in the business.