Do you struggle to keep your franchisees updated, engaged, and empowered? Do you foresee the day when all your franchisees are active participants in the collective growth of your franchise system?
Well, driving engagement while sharing best practices in a social, collaborative community just got a little easier. The Hub by FranConnect builds strong and supportive relationships with your franchisees and encourages active participation within your community. With a newly modern designed interface, the central communications hub offers an easy-to-navigate library for managing and sharing operations manuals, marketing assets, and providing greater support.
All in one place – actively engage your franchisees with tools, information, and the content they need to develop and grow. Centrally manage key operational materials into a single secure, permissions-controlled hub. Documents can easily be organized and managed allowing an admin to add, modify, and delete documents, folders, and Sub-folders.
Building a Collaborative network… increase efficiency plus save time and resources by previewing documents before downloading. Additionally, the admin now has controls and permissions to enable collaboration and spark action through comments on the content within the library.
Drive Engagement and Supportive Relationships with Your Franchisees
Easy to Navigate – refreshed user interface with updated layout, typography, and iconography provides a modern look and feel, is more visually appealing, and completes tasks more smoothly.

Preview Documents – no more having to download and then view the document. Documents can now be previewed before downloading directly to your devices.

Unified Collaboration and Tracking – introducing additional controls and permissions that allow the admin a provision to filter among others who may or may not leave a comment on any given document.

Intuitive Document Management – leverage insights provided by document activity to better organize the content plus drive higher engagement by sharing and easily managing documents.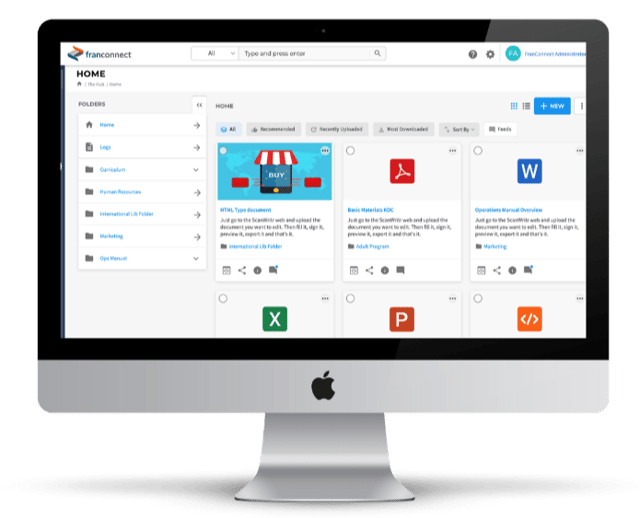 For more information on the Hub module or to schedule a demo of the FranConnect Engage application visit us here.