A franchise development software system is crucial to the success of your franchise recruitment efforts. It will help you and your team grow your brand in an organized way, managing every aspect of engagement with franchisee candidates, and it should integrate seamlessly with the rest of your operations. When choosing a development system – or evaluating your current one – for your franchise, ensure it has these seven features.
1. Automated workflows
Workflows are an important element of your lead management solution. Designing and implementing workflows will enable you to tailor the system to your specific processes and determine what activities take place at each step – all to increase lead conversion. Automate repetitive or low-value tasks to create maximum efficiency and enable your sales team to spend more time on higher-value efforts, such as understanding the candidate's motivations and moving the awarding process forward. By mapping a process and setting triggers, you can automatically send and record correspondence and set follow-up tasks. Detailing workflows and using automation will also standardize activities and reporting across the brand so you can regularly measure performance.
2. Campaigns
Franchise development and marketing intersect at campaigns. Part of your workflow should be to create email campaigns to efficiently move leads through the sales cycle. Make sure you can create trigger-based delivery schedules, use personalized links, and create automatic email responses without having to leave the CRM. All campaigns should be recorded in the candidate's communication history, and you should have the option of sending text campaigns as well. Campaigns need some initial set up, but they will ultimately save you time and money, allowing you to spend more resources on the candidates who are going to partner with your brand.
3. Status Tracking
As a franchisor, you're going to need a lead management system – ideally part of your franchise CRM software platform – built specifically for franchising that has franchise-specific lead statuses and tracks the activities that those statuses represent.

Here are a few statuses franchisors need:
when the candidate is a "new lead" (hasn't yet been engaged by the sales team)
when the candidate is in the qualification process
when the candidate has signed an agreement
when the candidate is qualified but has been unresponsive
other statuses that support your specific sales process
You'll also want the ability to electronically distribute and track receipt of your brand's FDD, including filing an Item 23 receipt with the candidate's record. Ideally, changing a lead's status should trigger automated workflow tasks, such as sending the candidate information relevant to the stage of the sales cycle they're in, or setting key tasks that need to be completed at this stage. You should also be able to track time spent in each status so that you can review the sales funnel periodically for candidates who are lagging behind and revise tactics as appropriate.
4. Smart Groups
A CRM with "smart groups" allows you to dynamically segment leads according to common characteristics, creating maximum efficiency to reach multiple leads at one time. For example, you may build out franchise candidate buyer personas and message by persona at the top of the funnel. Or perhaps as a sales manager, you work in a specific geographic and want to tag the leads in your territory. Another use of smart groups is to tag leads you are not interested in at this time – perhaps due to geographic or financial reasons – but you may be interested in contacting in the future. Of course, creating groups based on where your leads come from – otherwise known as their "source" – is always helpful, which leads us to…
5. Source tracking
Tracking where your leads come from directly impacts where you spend your marketing dollars (at least it should). It's imperative to be able to track how your leads discovered your brand, whether it be from social media, a paid media campaign, a referral, or an event. Every lead in your CRM should have its source tagged upon entry, whether the entry happens automatically or through a manual import. Once tracked, you should also be able to compare leads delivered per source (and how far into the sales cycle each progressed) with the amount of money spent on each source to determine your cost per lead, as well as ROI per lead source. One additional element of a CRM built specifically for franchising is that it automatically adds leads directly from franchise brokers and portals.
6. Integration
Although we're concerned here primarily with franchise development, ask yourself, what happens once we award a franchise? How seamlessly does our CRM integrate with the next stage in the franchise lifecycle? Can I easily transfer information from the franchise sales process to the onboarding and compliance management areas? Your development software should integrate with the rest of your operations, and optimize the entire process for your teams and franchisees. Integration also includes tools and data used outside of your CRM – good systems offer APIs that get external data into or out of the system to use elsewhere. Lastly, it will also be integrated with digital signature software (like DocuSign), lead profiling systems, etc., to allow you to use those systems while accessing the resulting data in one central location.
7. Reporting
Last but not least, your franchise development software needs to give you good reporting. The above features are useless if you can't understand their impact. You need to have insight into your workflows, campaigns, sources, communications, and sales funnel. Are you attracting enough of the right candidates? Is your sales team converting those qualified candidates into opportunities and then closing the deal? If not, why not? What are you doing well, and what are areas for improvement? Are you meeting your financial goals? These questions need to have answers, and those answers should be easily accessible, comprehensible, and reviewed regularly for course correction. Ideally you will have a business intelligence tool that ties in with your software solution that gives you real-time, distributable reporting and gives you insight into key aspects of the business.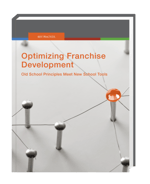 To learn more about franchise development best practices, check out FranConnect's free ebook, Optimizing Franchise Development: Old School Principles Meet New School Tools.