Welcome to FranConnection'16. This year's conference comes at an interesting time. The franchising industry growth rate continues to outpace that of the general economy, driving demand for existing franchisors and new concepts. Simultaneously, the regulatory environment is changing, which may negatively impact growth. Market dynamics such as these present opportunities and challenges.
Engage, Innovate, Grow
This year, our conference theme – 'Engage, Innovate, Grow' – embodies the overwhelming sentiment we hear from our customers when we ask you what are your top priorities for continuous improvement within your business. The agenda for FranConnection'16 has been organized specifically for you to have a forum to share ideas and have meaningful discussions. And, more importantly, to provide you with practical, actionable information that you can immediately apply within your organization.
We will be kicking off FranConnection'16 with the opening keynote featuring Aziz Hashim, the new Chair of the International Franchise Association (IFA), Managing Partner of NRD Capital, and one of the most respected executives in franchising. Aziz is going to discuss what the future holds and how you can replicate his success within your own companies. Aziz will share his remarkable story of having started his career as an entry-level worker in his youth to become one of the largest multi-unit franchisees in America. He will also talk about how he has constructively challenged the franchise systems of which he has been a part and how he is applying his expertise to helping as many franchisors as possible. All this is about helping franchisors realize the most value from their business while preparing them for the future he's predicting.
Following the opening day, we have a series of exceptional panels focused on topics, which have been requested by our customers. The events include understanding the role of private equity in franchising. The panelists and I will share best practices employed by private equity firms and the keys to success when selecting and working with a private equity firm. Our esteemed panelist include: Jeremy Holland, Principal, the Riverside Company; Gay Burke, Executive Chairman, AlphaGraphics and Operating Partner, Blackstreet Capital Management; Kevin Wilson, CEO, Mosquito Joe; and Mike Skitzki, CFE and COO, Franworth.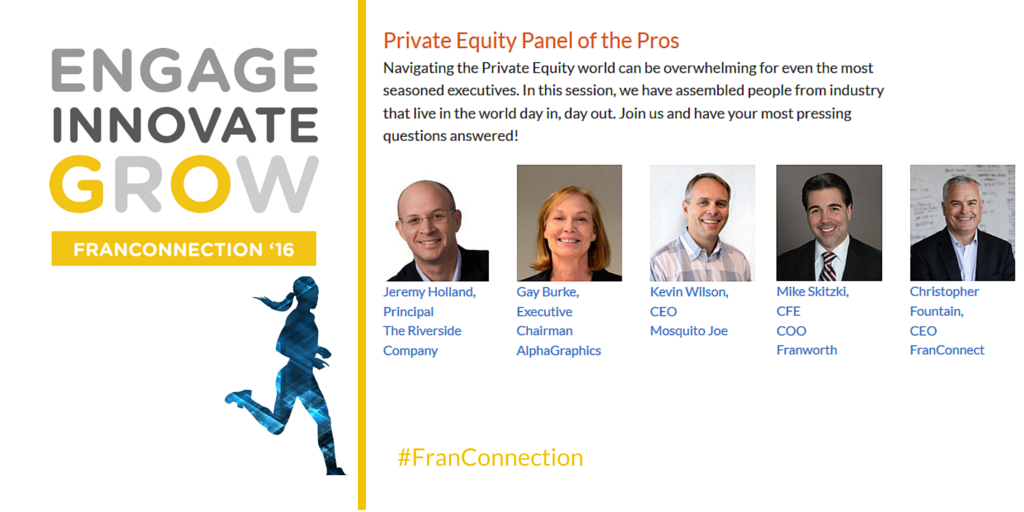 Additionally, in our development session moderated by FranConnect's Keith Gerson, Closing the Franchise Sales "Knowing and Doing Gap," guest panelists Scott Oaks, Vice President, Franchise Development of BrightStar Care; Mike Mettler, CFE and Director National Franchise Sales of Dairy Queen; and Sean Fitzgerald, Chief Development Strategist of 1851 Franchise will share their experiences and best practices on how they are using reporting metrics and coaching techniques within their teams to meet and accelerate sales objectives for successful unit growth.
We are also pleased to have Robert Stidham, President and Chief Development Officer of Franchise Dynamics, join us for development session, Creating a Killer Sales Process and Leveraging It Through Your FranConnect Franchise Sales System Tools. Robert will discuss what you, as a franchisor, need to know to improve your franchise sales process, and how solutions like FranConnect can help you achieve maximum benefit.
Conference attendees will have the opportunity to participate in sessions on operations best practices, where we will take a deep dive into such topics as:
How you can advance your franchise system through innovation in operations so that you can effectively manage resources around franchisee evaluation and support.
The tools and techniques you need to implement NOW to achieve unit growth and better unit economics.
Every executive, regardless of her or his functional responsibility, should attend our sessions about managing your digital footprint. As franchisors, we are pulled in many directions, and often times, we don't have time to understand the impact the digital world has on our brand because it is largely misunderstood and somewhat overwhelming. At FranConnection'16, these sessions will explore how the market's big shifts in our always-on, always-connected world can be one of the best brand-defining strategies. We will provide you with the tools you need so that you can learn the hard and soft benefits of a digital footprint, understand why measurement and tracking are critical as well as what to measure, and develop consistency throughout your franchise ecosystem.
The next few days are going to be packed with content, dialog, and fun. What makes franchising so special and unique is our tight-knit, collaborative community. And in the coming days, I look forward to the time we will spend together, renewing friendships and forging new relationships, as we work together to support each other's success.
Thank you for joining us for FranConnection'16.